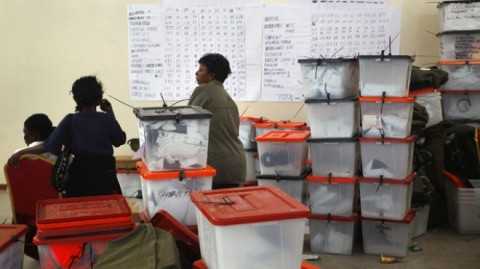 The Electoral Commission of Zambia has set Thursday,11th September, 2014 as the date for the five pending parliamentary by-elections in Solwezi Central, Mkushi South, Vubwi, Kasenengwa and Zambezi West constituencies.
This follows the Supreme Court's judgment of 3rd July,2014 which cleared the former Members of Parliament who had their elections nullified for engaging in electoral malpractices to recontest their former seats.
ECZ Public Relations Manager Crispin Akufuna in a statement issued to QFM News says the filing of nominations by candidates for the by-elections will be held on 12th August, 2014 between 09:00 hours and 15:00 hours.
Mr Akufuna says the campaign period for the by-elections will commence on date of nominations after 15:00 hours and will end at 18:00 hours on Wednesday, 10th September, 2014.
He has further advised aspiring candidates to attend nomination briefings on Saturday, 9th August, 2014 at the Civic Centres in the respective districts.
QFM News