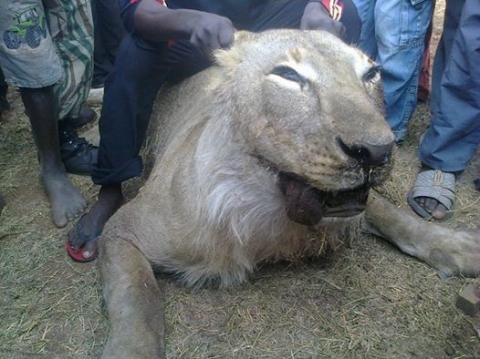 The Zambia Wildlife Authority (ZAWA) in Kasama has killed one of the two lions that have been terrorizing people and domestic animals in Chief Makasa's area.
A Radio Mano crew which rushed to Chief Makasa in Mungwi district on Sunday found people having a glimpse of the dead lion which was killed on Sunday night.
And residents have appealed to ZAWA to intensify patrols in the area so that the remaining stray lion could be killed also in an effort to protect people's lives and their domestic animals.
Last week, one of the residents of Namutimba village in Chief Makasa Emanuel Nsupila disclosed that two women of Namutimba village in Chief Makasa's area in Mungwi district have been killed and eaten by marauding lions.
Mr. Nsupila added that the beasts have also killed twelve cows.
Radio Mano