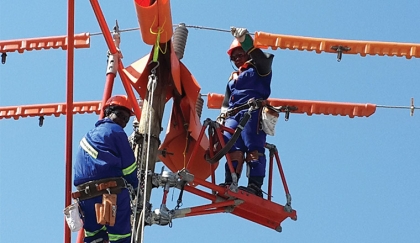 ZESCO will soon stop switching off power each time it is carrying out maintenance works on its distribution lines in order not to inconvenience the customers.
Zesco spokesperson Henry Kapata said this at the just-ended Zambia International Trade Fair in Ndola where Zesco was exhibiting the maintenance of live wires by trained female Zesco employees literary touching the dangerous 11kv line without being electrocuted.
"Maintenance of live lines is safer than maintenance of dead lines because maximum safety measures are put in place and engineers are more cautious than those maintaining dead lines where anyone can switch on power accidentally, causing electrocution.
"Statistics show that more people have been electrocuted through maintaining dead lines than those maintaining live lines," he said.
"Switching off power is very inconveniencing to the business sector such as supermarkets, hotels and hospitals.
The new system will help Zesco to be more customer-friendly as no one will be inconvenienced by being switched off."
Mr Kapata warned the public to desist from experimenting with the new technology as it is a highly dangerous activity that requires training and necessary skills.
He said Zesco will not be responsible for any accident to people who might try the new technology.
"This is a Zesco project supervised by skilled expertise contracted by the institution from recognised learning institutions," Mr Kapata said.
Zambia Daily Mail