Opposition ABZ has praised Electoral Commission of Zambia (ECZ) Chairperson Irene Mambilima's courage to challenged acting republic president and Justice Minister Wynter Kabimba to explain his recent revelation that he allegedly smuggled Kenyans into Zambia to help the ruling Patriotic Front (PF) with Parallel Vote Tabulation (PVT) during the 2011 general elections.
ABZ president Frank Bwalya has observed that the Justice Mambilima's boldness is the most courageous statement he has ever heard since country's reverting to multi-party democracy in 1991.
Fr. Bwalya says the statement by Justice Mambilima to ask Mr. Kabimba to explain his recent revelation that he alleged smuggling of Kenyans into Zambia has distinguished her as the most independent thinking person among those working in our vital state institutions in the country.
He has told Qfm news in statement that he also thinks that Justice Mambilima's courage over the same matter has also made her stand out as a fearless professional who upholds the rule of law and good governance in general.
The ABZ president says this especially that he knows that the Inspector General of Police and the Director General of the Anti-Corruption Commission (ACC) besides the speaker of the National Assembly have allegedly not shown the spine to challenge Mr. Kabimba in the manner she has done.
He says her boldness makes has made him convinced that she is prepared to lose her job for standing up for the truth and common sense.
Fr. Bwalya further notes that his prayer is that Zambians will support professional people like Justice Mambilima who are ready to sacrifice personal gain to speak for the people and advance justice in the country.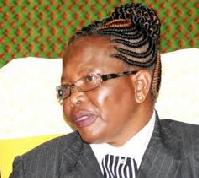 Qfm News