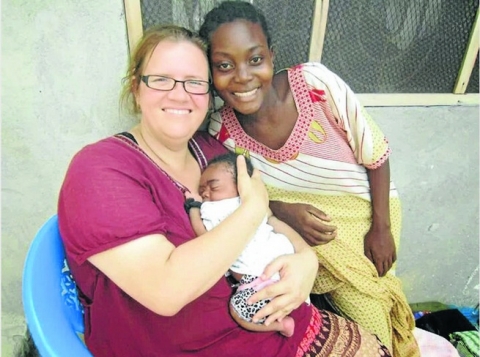 Julie Argent, founder of Zoe's Hope in Zambia, is coming to Parkes to thank in person the wonderful people who raised more than $6,000 for the charity at a dinner/auction last February.
Julie has returned briefly to Australia to be bridesmaid for her friend, Emily, who spoke  at the Graceland's dinner.
Guests listened in awe as Emily spoke with Julie on speaker phone.
There were many tears shed on both sides of the ocean as Julie shared a little of the work of Zoe's Hope in Zambia.
Julie set up Zoe's Hope, a registered charity, to care for premature babies and their mums, as well as children at risk.
Her aim is to re-integrate them back into their extended birth families.
She receives no wage and is entirely dependent on supporters for all her needs and that of Zoe's Hope.
The public are welcome to go and meet this wonderful young woman at St Georges Anglican Church Hall, 3.30pm on Sunday, July 6.
Julie will share some of her experiences with the afternoon open to all who are interested to find out more about Zoe's Hope.