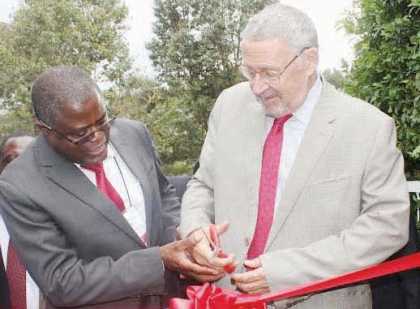 VICE-PRESIDENT Guy Scott says he has not yet received a letter from former members of the Technical Committee on Drafting the Constitution demanding an apology from him and the Minister of Justice Wynter Kabimba for allegedly saying they attempted to transfer government vehicles into their names.
In a telephone interview with the Daily Mail on Monday, Dr Scott said he would thus not comment on the matter.
"I cannot comment on that issue. I will have to consult my lawyer when I receive the letter. I have only seen a copy in the Daily Nation," Dr Scott said
Mr Kabimba was not immediately available to comment on the issue.
It was reported that in a letter dated June 18, 2014, Mwansa, Phiri and Partners acting on behalf of Ernest Mwansa, Patrick Mvunga, Rodger Chongwe, Mwangala Zaloumis, Reuben Lifuka, Chief Luchembe, Father Bantungwa and Suzanne Matale demanded an immediate apology from Dr Scott and Mr Kabimba.
"The retraction and apology must be prominently placed in the same newspaper that printed the libellous articles.
His honour the Vice-President and the honourable minister are given 14 working days in which to make the retraction and public apology of their statements," the letter signed by an A.M Shilimi reads in part.
The former technical committee members stated that the words attributed to them are untrue, malicious and very misleading.
It is alleged that Dr Scott and Mr Kabimba accused the former members of the technical committee of trying to transfer government motor vehicles assigned to the technical committee to their personal names.
Zambia Daily Mail