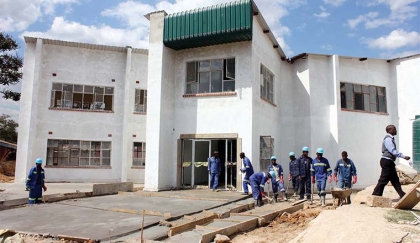 GOVERNMENT has partnered with Denmark to implement infrastructure development projects worth over K6 million at the Zambia Forestry College (ZFC) in Kitwe.
The projects include a geographical information system and remote sensing (GISRS) laboratory, hostels for female students and a science laboratory.
ZFC acting principal Richard Banda said in an interview in Kitwe on Monday that management is happy with the infrastructure development at the college.
Mr Banda said the construction of the GISRS laboratory will help ZFC to gather information about the changes in the environment using satellites within the shortest possible time.
"Having the geographical information system and remote sensing laboratory is a big achievement at our college. With the laboratory in place, our students will be able to quickly determine the changes in the environment," Mr Banda said.
Government procured GISRS laboratory equipment at a cost of K500,000.
The GISRS equipment has been installed in readiness for use by the students.
Mr Banda also said the construction of dormitories at the institution whose works are almost complete will help increase the girls' enrolment in various disciplines at the college.
He also said works on the science laboratory are complete and Government has since released K100,000 for the procurement of equipment.
And speaking when he briefed Copperbelt permanent secretary Howard Sikwela on the operations of ZFC on Monday, Mr Banda said the college has embarked on numerous income generating activities, which include the processing of timber at its saw mill.
"As a school, we need to generate income. We are keeping pigs, chickens and we also sell timber. This is the only way that we can manage to feed our students," he said.
Mr Banda also said ZFC has renovated the bee keeping factory, which is currently processing honey.
He, however, said ZFC is facing numerous challenges such as encroachment of forests by illegal settlers.
Mr Banda said this is making it difficult for students to conduct their practicals in the tree plantations.
Mr Banda also said the institution is in dire need of full-time lecturers.
He said most of the lecturers ZFC has engaged are on part-time basis.
And Reverend Sikwela commended college management for coming up with income generating activities to help the institution operate in an efficient manner.
"I am here at the institution to check on the projects that are being implemented by our Government, you are really doing a great job in coming up with initiatives such as bee keeping and chicken rearing projects," he said.
Zambia Daily Mail