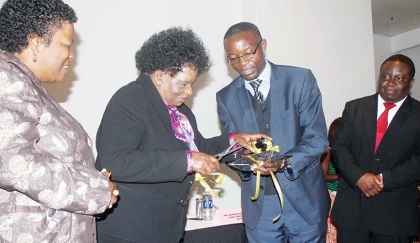 ACTING Chief Justice Lombe Chibesakunda has warned magistrates against corruption as the vice undermines public trust and rule of law.
Ms Chibesakunda said corruption in the judiciary is seriously impeding the proper functioning of the institution from achieving its mandate of dispensing justice in a fair, timely and efficient manner, without favour or ill will.
She said this during the launch of the Local Court Service Charter in Lusaka yesterday.
The charter is aimed at increasing levels of transparency in operations of local courts as well as restoring public confidence in the judicial system.
Ms Chibesakunda cited local courts as the most hit by corruption and called for increased levels of scrutiny and oversight so that erring officers are made more accountable for their actions.
"It is a well-known fact that corruption, if not nipped in the bud, can spread like a disease and eat the moral, social and economic fabric of society.
"There are few bad eggs within the judiciary and the local courts have been a source of concern.  Local courts are to most litigants the face of the judiciary. Litigants in the local courts appear in person, so they are more prone to abuse," she said.
Ms Chibesakunda said it is sad that most litigants have continued to fall prey to unscrupulous court officials and adjudicators seeking bribes to secure a more favourable outcome or judgment.
"It is about time that local court magistrates and court clerks are made to realise that justice is not for sale.
"They must know that despite the difference in procedure, the local courts are as much a part of the judiciary as any other courts and, therefore, their conduct has a bearing on overall performance of the country's judicial system," she said.
Ms Chibesakunda warned that she will not spare any court official who will be found or seen lobbying for inducements or bribes in passing of judgment.
And Transparency International Zambia (TIZ) vice-president Kalungu Sampa commended the judiciary for launching the Local Court Service Charter.
Mr Sampa said the decision will ensure effective functioning of the judiciary and help in inspiring confidence in members of the public.
Zambia Daily Mail