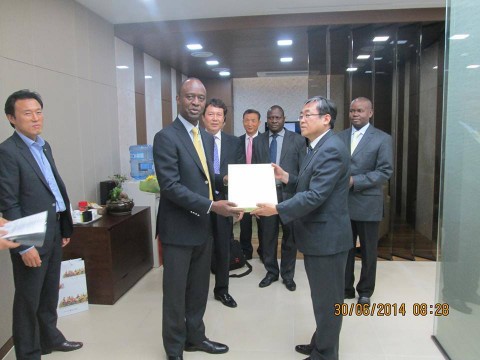 LUSAKA mayor Mulenga Sata has called on the South Korean entrepreneurs to take advantage of Zambia's favourable business opportunities and invest in all sectors of the economy.
Mr Sata said the good policies entrenched by the Patriotic Front (PF) government have transformed the country into a preferred investment destination.
Mr Sata said this yesterday when he met the chairperson of Industrial Bank of Korea (IBK) Young Hyun Jo and the general manager of Woori Bank Yoon, Young Mook in Incheon, the second largest city of South Korea.
He said Zambia has great investment opportunities in mining, agriculture, hospitality and construction sectors that have attracted various world investors.
Mr Sata also said Zambia is a business hub in the southern Africa sub-region offering great investment prospects to both local and foreign investors.
"Zambia has been a peaceful country and this has made it an attractive centre for most investors.
"Our coming here in South Korea at the invitation of Dae Han Construction Company is to explore further investment opportunities and to invite you the potential investors to come to Zambia, Lusaka in particular so that we can see which role you can play to help in responding to the challenges our city is facing," he said.
He also said Lusaka, like most cities in developing countries, is in dire need of support in waste and proper land use management.
Mr Sata said among the serious problems the city faces is lack of recycling plants for waste.
He said this has made waste management a nightmare for the local authority to handle.
Earlier, Lusaka City Council (LCC) town clerk Alex Mwansa said besides waste management and construction challenges, the city has a huge housing deficit as well as poor water supply and sanitation, especially in the peri-urban areas.
"The problem of (road traffic) congestion coupled with lack of parking space has become a huge challenge for the Local authority.
"Already in trying to find solutions to the problem, the council approved the construction of parkades which at the moment awaits a willing investor to come on board to partner with the council in building these facilities," he said.
Mr Mwansa said as a matter of urgency, the council is inviting Korean investors willing to give support in any of the sectors under the auspices of the local authority.
"As a local authority, we have approximately 61 functions delegated to us under the Local Government Act and that in itself gives you a picture of the workload we have and how we desperately need assistance in a number of areas," he said.
At the same function, Mr Jo said the bank is willing to support any South Korean investor willing to take investment in Zambia.
Mr Jo said he is aware of good investment opportunities in Zambia and long standing political stability which has made the country a good place for investment.
He assured the mayor that the bank is going to provide financial backup if Korean companies were to express interest in investing in Zambia.
"The first step we need to undertake is to develop a relationship step by step and then we can see how we can support each other," he said.