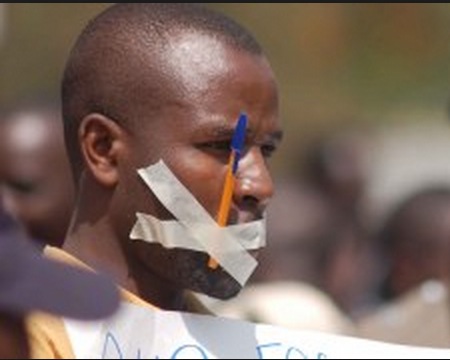 The Southern Africa Editors' Forum (SAEF) says there is no 'criminal law' in Zambia that inhibit Journalists from submitting stories to online media publications.
SAEF President Kenny Makungu says Journalists and any member of the general public was free to write stories to online publications without intimidation.
Mr. Makungu has for this reason urged the PF Government to remove what he calls all inimical laws to media freedom like other countries have done especially in West Africa.
"It's not criminal to submit stories to online publications because there is no law in Zambia that impedes Journalists or any other person to do write a story or submit an article to the Watchdog or any other online media," Mr. Makungu said.
ZANIS reports that the SAEF President was speaking at a press briefing in Lusaka today.
He was flanked by SAEF Secretary General Patson Phiri, Treasurer Enock Ngoma, and Committee member, Chansa Mayani.
"We recommend that the Zambian government should remove all the laws inimical to media freedom and withdraw cases involving their professional activities, " he said.
Mr. Makungu who is also lecturer at the University of Zambia ( UNZA ) school of mass communication , said this in the wake of recent harassment of Zambian Journalists who were harassed this month in their course of duties.
He advised Information and Broadcasting Services Minister Dr. Joseph Katema to ensure that media personnel and houses operate without any form of intimidation.
He said government through Dr. Katema's ministry should ensure that journalists are protected as a fourth estate who disseminate, educate and entertain the people on a daily basis.
Mr. Makungu said the harassment of Journalists by Police Officers on was bad for democracy and media freedom.
On the Freedom of Access Bill, Mr. Makungu urged government to table the Bill in this current session of Parliament.
Mr. Makungu urged the PF Government to review pieces of legislation that were in-effective among that prohibition of publication of seditious practices, public order act cap 113, state security Act cap 11, the ZNBC and the Independent Broadcasting Authority Acts on appointment of board members.
Meanwhile, Mr. Makungu says his organization strong joins other media bodies that have called for the immediate release of three foreign journalists jailed in Egypt.
But Chief Government Spokesperson Dr. Joseph Katema has time and again assured protection for scribes operating in the country.
Dr. Katema however, vowed act against some online media companies whose articles he described as malicious and unreliable.