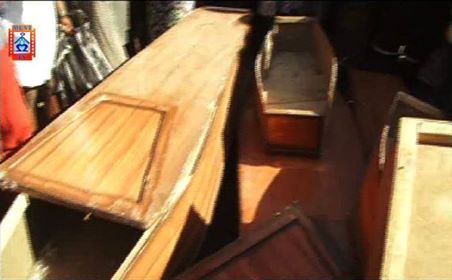 A CLERGYMAN of Mtendere who was beaten by residents for being in possession of coffins says he had them for a funeral parlour he intends to open.
Pastor Francis Musonda of Arise and Shine Church said people were wrong to conclude he is practicing Satanism just because he was found in with coffins.
In an interview, Pastor Musonda said he has always had the intention of opening a funeral parlour because he once worked at the Memorial Park where he built roads and offices.
He said once when he was in Kasama, he had the thought of buying a piece of land where he could operate a funeral parlour adding that he finds nothing wrong with a clergyman getting into that kind of business.
The clergyman explained that he consulted family and church leaders many of whom approved of his plans to start a funeral parlour.
He said one of those he consulted was a friend who once worked for a funeral parlour.
"My friend told me that he was now making coffins and I ordered nine coffins of different sizes from him: three big, three medium and another three for babies. I paid him K3,000 and he told me to collect them from his trading area at University Teaching Hospital (UTH) on Wednesday last week," he said.
He said when he went to collect the coffins, they were incomplete as handles and the fabric were yet to be fitted.