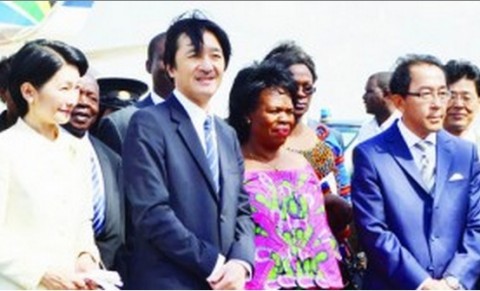 THE Imperial Highnesses Prince and Princess Akishino of Japan have arrived in Zambia for a five day State visit.
Prince and Princess Akishino who were welcomed by Traditional Affairs Minister Nkandu Luo and Japanese ambassador to Zambia Kiyoshi Koinuma at Kenneth Kaunda International airport arrived at 12:25 hours aboard a South African Airways.
Following their arrival, the Imperial highnesses took time to watch traditional dances before departure for Inter-Continental Hotel for a private launch.
Caption:Japanese Imperial Highness Prince Akishino (5th L) and Princess Kiko (4th L) watch Zambian traditional dancers shortly after arriving at Kenneth Kaunda International Airport in Lusaka, Zambia, on June 28, 2014. The emperor and his wife are on an official visit to Zambia for five days. AFP PHOTO / STRINGER (Photo credit should read STRINGER/AFP/Getty Images)
Prince and Princess Akishino will today leave for Livingstone were they are scheduled to visit the Livingstone Museum and Victoria Falls.
They are also scheduled to meet acting President Wynter Kabimba at Government complex tomorrow at 15:00 hours.
According to the programme released, the royal highnesses are also expected to lay wreaths at the freedom statue.
Vice President Guy Scott is also expected to host dinner in their honour tomorrow.
They are also expected to attend a reception to mark the celebrations of the 50th anniversary of diplomatic relations between Japan and Zambia.
Prince and Princes Akishino are expected to leave on Wednesday July 2, 2014.
Times of Zambia