The Movement for Multi-party Democracy (MMD) has noted with great concern recent media reports that First Quantum Minerals (FQM) has decided to postpone over One Billion Dollars of investment in Zambia owing to the uncertainty created by a tax dispute with the ruling Patriotic Front government.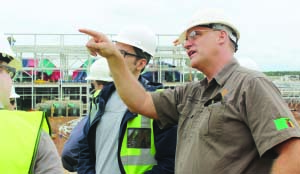 FQM is Zambia's largest Copper producer and biggest tax payer and is one of the largest single employers after the government. The mining industry employs tens of thousands of people. Some estimates put the figure at fifty thousand jobs, which translates into over 300,000 people directly affected using the average family size of 6 persons.
The unpredictable governance style of the PF regime is the major cause of the current uncertainty and instability in the economy. This has culminated in the withholding of investments by mining houses, which means that new jobs that would have been created may never materialise. Worse still, if this trend continues, it is likely to result in scaling down of mining operations which will most probably lead to job losses and a contraction in future economic growth.
The lack of clear policy direction by the PF government has destroyed confidence in the Zambian economy and is a major cause of the recent frightening decline of the value of the Kwacha against major currencies. The recent sudden appreciation of the Kwacha is the result of unsustainable cosmetic monetary policy interventions that do not address the fundamental problems.
In three short years, the PF Government has recklessly dismantled the strong economic foundation left by the MMD Government which had reduced poverty levels from 80% in 1991 to 62% by 2011. The MMD also produced successive positive ratings by the leading credit rating agencies of the world such as Fitch, Moodys and Standard & Poors.
The new MMD government once elected will re-introduce a clear, predictable and stable policy direction to restore confidence in the economy for Zambian and foreign investors. This is aimed at protecting, securing and increasing jobs for our people. The MMD believes in constructive consultations at every level with all relevant stakeholders ensuring a win-win situation for all parties.
Zambia is now at a cross-road. The choices are: Further disaster and decline, or a great economic boom. Zambians must now choose a government with clear direction that shall take them on the path of prosperity; a government with experience, boldness and foresight to make the smart choices to propel Zambia into the ranks of developed nations.
The only choice is the MMD.
By Nevers Mumba on June 26, 2014