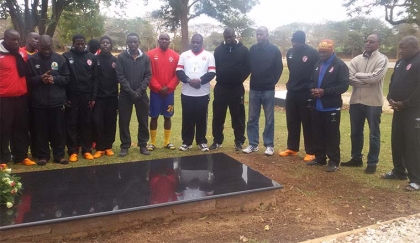 SUPER Division champions Nkana yesterday paid their last respect to legendary soccer commentator Dennis Liwewe when they visited his grave at Lusaka's Memorial Park.
The team, led by coach Zeddy Saileti, visited the legend's burial site in the afternoon and were received by Liwewe's son, Ponga.
Team manager Charles Chakatazya said the Kitwe-based side has not had an opportunity to pay their last respect to Liwewe due to continental club commitments.
Chakatazya said Liwewe was not only a commentator but also supported Nkana and the team felt duty-bound to pay their last respect.
"When our father [Liwewe] died, we were away in Tunisia and since we came back, our programme has been so tight that we have not had an opportunity to pay our last respect. Now that we are in Lusaka for about five days, we decided to pass through and say goodbye to him," he said.
Chakatazya said Liwewe was a mentor to football administrators.
"As Nkana, he was our supporter and he liked the club so much," he said.
Liwewe died on April 22 after an illness.
Meanwhile, Saileti is confident Nkana will defend the Super Division title.
In a post-match interview after Nkana's 3-0 routing of Red Arrows at Nkoloma Stadium in Lusaka on Sunday, Saileti said the team has shown that it is capable of retaining the title.
Saileti said consistency is important if the team is to finish top.
Nkana have dropped only two points from their last three fixtures.
They drew 1-1 with Power Dynamos and beat Zanaco 2-0 before the 3-0 massacre of Arrows.
Saileti said the win over Arrows was a morale booster for the 12-time Super Division champions.
Nkana moved to 20 points, 10 behind joint leaders Zanaco and Zesco United.
"The boys played according to instructions. It was a good game and I am happy with the way we played," Saileti said.
He said the team will neither relax nor underrate opponents.
Nkana's next fixture is against Nakambala Leopards tomorrow in Mazabuka.
Meanwhile, Arrows coach Osward Mutapa said the 3-0 defeat to Nkana was a bitter pill to swallow.
"It's a painful defeat. We played well in the first half but we allowed unnecessary goals in the second half," Mutapa said.
He, however, said the loss was not the end of the world and Arrows would work hard to rectify the mistakes.