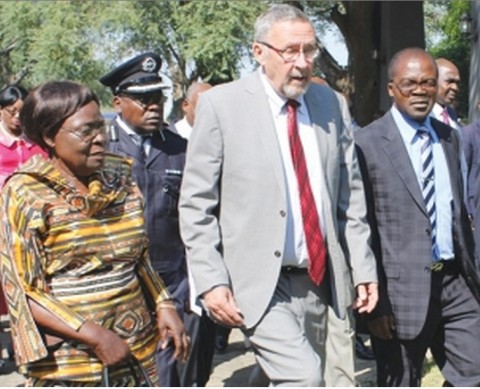 The Foundation for Democratic Process (FODEP) is concerned with the huge delegations accompanying senior government officials pretexting to be inspecting developmental projects in areas where by-elections are due.
The incident in point is in Siavonga District where almost the entire government system at provincial and district level accompanied Vice-President Dr. Guy Scott in his campaign tour of Mulimya ward ahead of local government by-election in the area.
This is extremely uncalled-for and sheer waste of government resources for personal gain by those involved when the same resources would have been used to resolve water blues and abject poverty affecting the people in the area.
FODEP wonders how Dr. Guy Scott who over the weekend used a helicopter to inspect the Bottom Road works could still be accompanied by convoys of vehicles to Chaanga area where he held a campaign meeting. Senior government officials in the area including District Commissioners, police officers and provincial team led by provincial minister among others were in attendance.
In as much as the electoral laws allows republican Vice-President to use government resources and facilities during election campaigns, a huge government delegation to such meetings is a huge cost to the country which yearns for development.
There is, therefore, need for Dr. Scott to exercise responsibility and prudence in the utilization of such public resources and facilities ahead of the Mangango parliamentary and other local government by-elections schedule for August 2014 to avoid further wastage of public resources.
To other government officials, FODEP would like to remind them that they will be contravening the electoral laws by using government resources such as vehicles for political party activities ahead of the by-elections.
FODEP is instructing all its members staying in by-election areas to report any abuse and misuse of government facilities and resources by those not entitled by law.
McDonald Chipenzi
Executive Director