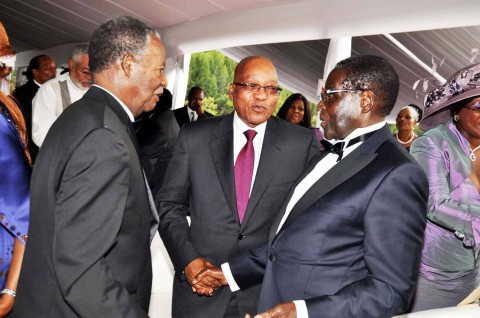 South African President Jacob Zuma's health is "fine", his spokesman said on Sunday, playing down a newspaper report that heart problems, diabetes and high blood pressure caused the leader's brief hospitalisation two weeks ago.
Zuma, 72, spent two days in hospital for what his office said was a "routine health checks" and handed over the reins to his deputy, Cyril Ramaphosa, for five days to recover from the rigours of preparing for the May 7 election.
Citing government and Zuma's party African National Congress (ANC) sources, the influential Sunday Times reported that Zuma had a cardiac condition, diabetes and high blood pressure.
Zuma's spokesman, Mac Maharaj, said he would not be "engaged on rumours" about the health of the president.
"What I can say is, the president is fine, attending to his duties and his doctors say there's no cause for concern about his medical condition," he said.
In his first public appearance after almost two weeks on Tuesday when he delivered the state of nation address, he looked frail and appeared to have lost weight.
Worries about Zuma's health have raised some speculation that he may not see out the full five years of his second term.
The ANC won a 62 percent majority in the May elections, its fifth but also its narrowest victory since the end of white-minority government in 1994.