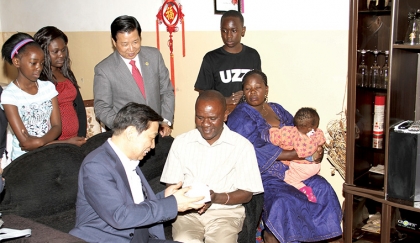 IT WILL always remain a puzzle to David Kaunda Secondary School teacher January Mkandawire how he was picked to be honoured with a visit by a high ranking Chinese government official.
The official is the second highest in the Chinese political hierarchy, whose visit made Mr Mkandawire an instant celebrity.
At about 09:30 hours, a VIP fleet of  sleek vehicles snaked through the teachers' compound, headed towards Mr Mkandawire's house and guess who his guest was?
The Vice-President of China, Li Yuanchao, in the company of other Chinese  and Zambian government officials, led by Home Affairs Minister Ngosa Simbyakula.
Positioned at the front door of his house, Mr Mkandawire, spotting casual dress, was on hand to meet Dr Li and his entourage, whose mission was to sample the Zambian hospitality at the household level by interacting with an ordinary Zambian family.
As Dr Li was ushered into the living room, which was neatly arranged, Zambian and Chinese photographers jostled for space to have a vantage point of Mr Mkandawire, who was hosting one of the most influential men in the world.
With photographers jostling for space in the overcrowded sitting room, Mr Mkandawire had seemingly run out of breath.
Dr Li and Mr Mkandawire, a metal work teacher, sat on the same seat in one of the houses built by the Chinese government at the school.
In their conversation, Dr Li asked Mr Mkandawire how he goes about his life starting from the kind of food the family subsists on, before he went on to encourage him to upgrade and apply for a Chinese government scholarship.
"How much is a kilogramme of beef, chicken and how would you rate yourself in society, are you rich or poor?" he asked.
In response, Mr Mkandawire said: "I cannot believe what this really means to me. I'm humbled and grateful. First of all, I don't even know how they came up with me and my family. I only saw people from the Ministry of Foreign Affairs coming to my house during the week to inform me about the visit."
A father of four, Mr Mkandawire,says he does not even know how he was chosen to host Dr Li, whose programme included an interactive session in the life of an ordinary Zambian family.
Mr Mkandawire, a senior teacher, said the visit by Dr Li will leave an indelible mark in his entire life and that of his family.
His wife, Sandra, equally ran out of words as she received some gifts from Dr Li, which included wall clocks, among other things.
Dr Li said he is happy that the Patriotic Front government has implemented its pledge of uplifting the living standards of civil servants.
He said the PF has fulfilled its promises adding that it was grateful that civil servants such as teachers were now accorded better shelter, among other things.
And officiating at the inauguration of the photographic exhibition of 50 years of China and Zambia co-operation, Dr Li reiterated that Zambia and China have been good friends and partners for 50 years now.
Dr Li said it is commendable that this relationship has been blossoming over the years adding that this should continue.
The 50 years of co-operation between the two countries signifies the fact that the two countries have confidence in each other.
He said it is cardinal that the two countries remember the people that contributed to the establishment of the Zambia-China relationship.
Meanwhile, Minister of Foreign Affairs Harry Kalaba said Zambia would remain indebted to China for the contribution it made during the construction of the Tanzania-Zambia railways.
Mr Kalaba said some Chinese people died during the construction of the railways and as a result, Zambians should always be thankful for this sacrifice.
China even sacrificed its resources to come to the aid of the Zambian people, who at the time really needed the railway to open up its borders.
Zambia Daily Mail