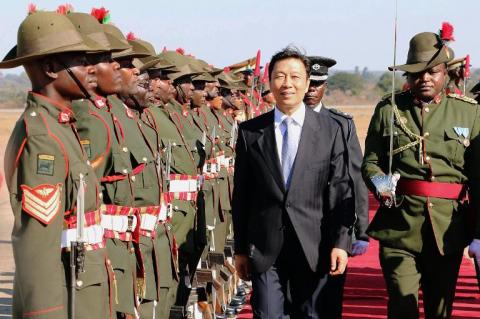 Chinese Vice President Li Yuanchao has arrive in the country for a four-day state visit.
Mr. Li and his entourage aboard Ethiopian Airline Boeing 787 touched down at the Kenneth Kaunda International Airport at 14-30 hours local time.
A thunderous welcome awaited Mr. Li as the airport premises was characterised with various activities amid tight security from the Chinese government and the host, Zambia.
Mr. Li was received by his Zambian counterpart, Dr. Guy Scott and out-going Chinese Ambassador to Zambia, Mr. Zhou Yuxiao.
The Chinese Veep was given a 19-gun salute mounted for him by the Second Battalion of the Zambia Army.
Mr. Li later watched a dance troupe and listened to solidarity songs by the ruling Patriotic Front, PF Women's choir.
The Chinese Vice President , who is also a member of the Political Bureau of the ruling Communist Party of China (CPC) Central Committee, was invited by Zambian Vice President Dr. Scott and Tanzanian Vice President Mohammed Gharib Bilal, according to China's (Xinhua) News Agency.
Mr. Li Yuanchao would also pay official visits to neigbohouring, Tanzania after he concludes his business in Zambia on June 21 UP to 27.
Others on hand to welcome him included Foreign Affairs Minister Harry Kalaba, Home affairs Minister Dr. Ngosa Simbyakula and other cabinet ministers and their deputies, some diplomats accredited to Zambia, defense chiefs and patriotic Zambian and Chinese nationals.
Mr. Li is leading a high powered 21 member Chinese delegation from the CPC. A series of meetings lies ahead of Mr. Li among them courtesy call on President Micheal Sata, Vice President Dr. Guy Scott and the PF Secretary General, Wynter Kabimba.
He is accompanied by Vice Minister of International Department of CPC Central Committee Yu Hongjun, Vice Minister of Commerce Li Jinzao, Assistant Foreign Minister Qian Hongshan, First Secretary of China Communist Youth League, Qin Yizhi and 16 other senior party members.
CPC has been in close working relationship with the PF since it assumed office in 2011, adding that is there in need to consolidate the party to party relations and exchanges.
According to a tentative programme obtained by ZANIS in Lusaka today, the Chinese ruling party delegation would visit the youth training centre run by the National Project for Poverty Reduction and will witness the donation of two mini buses and 30 computers to the Centre.
He also said a series of signing ceremonies which includes the signing of assistances such as grants, interest free loans and preferential loans, and about eight to nine agreements would be signed during his visit.
He would also be part of the celebrations of the 50th anniversary of diplomatic ties between Zambia and China which the two countries have lined up.
The state visit by the Chinese Veep to Zambia and Tanzania has largely four objectives which include saluting the able leadership of President Sata and his Tanzanian counterpart, Mr. Jakaya Kikwete for maintaining peace, consolidate the visit of Chinese Head of State Mr. Xi Jinping to Tanzania in March last year and President Sata's visit to China in April, 2013.
Other reasons are to exchange views with leaders of ruling parties of the two countries as well as to conduct study and investigations in order to know more about the economic and social developments of the two countries.