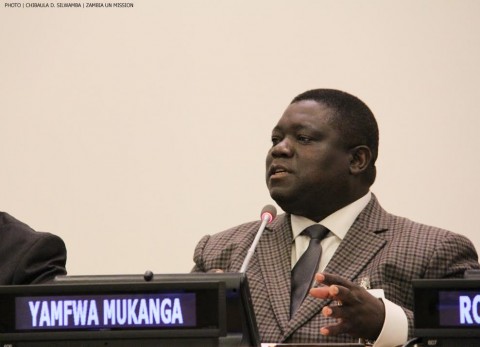 New York, Monday, June 16, 2014 – The Minister of Transport, Works, Supply and Communications has invited the private sector to take advantage of many investment opportunities in Landlocked Developing Countries (LLDCs) like Zambia.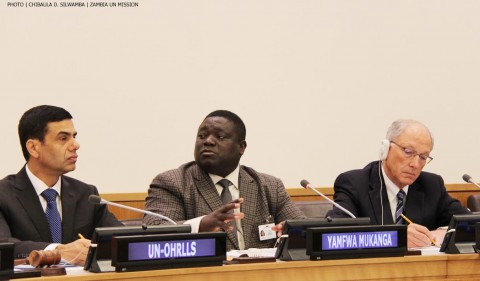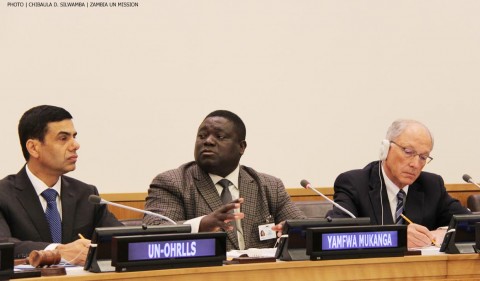 Mr Yamfwa Mukanga made the appeal to foreign investors when he delivered a keynote address at the high-level private sector side-event under the theme: "Creating Enabling Environments for Sustainable Investments in LLDCs", organized by the International Chamber of Commerce (ICC) and the Office of the High Representative for Least Developing Countries, LLDCs and Small Island Developing States (OHRLLS) at the UN headquarters in New York on Thursday.
The Minister said there was a growing recognition and acceptance that the primary role of Government was to create an enabling environment for the private sector enterprise and households to thrive.
"We in the Government pursue a legislative and regulatory agenda that reduce – if not – eliminates malpractice and business hurdles, and at the same time foster competitiveness across different sectors of the economy," he said. "A stable and predictable macroeconomic environment that manifests low inflation, a fair tax regime, a balanced national budget as well as the rule of law and the unquestionable protection of property rights all contribute to the strengthening of private sector growth."
Mr Mukanga – who chairs the 32-member state LLDCs at ministerial level – said it was the responsibility of Governments to facilitate the business community's access to capital and other factors of production, such as skilled labour force, land and technology.
The Minister said many LLDCs, including Zambia, continue to improve their policy and institutional environments to promote private sector participation in economic growth.
"I invite private sector players to take advantage of the many investment opportunities that abound in our countries. I wish to invite the private enterprise to work with Governments in the development of critical infrastructure that require large capital outlays, through Private-Public Partnerships (PPP) that remain underdeveloped in many of our countries," the Minister said.
Mr Mukanga said Zambia had done well as a democracy and had created a conducive environment for foreign and local private investment.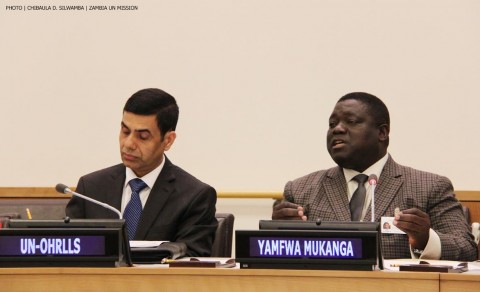 "I invite the business community to consider mineral beneficiation and other measures that can add value to our exports, reduce cost of transport and create employment opportunities," said Mr Mukanga, adding that Zambia is diversifying its economy from mineral dependency to tourism and other sectors.
UN Under-Secretary-General Mr Gyan Chandra Acharya moderated the side-event which emphasised the role of the private sector in the social and economic growth of LLDCs.
Permanent Representative of the International Chamber of Commerce to the UN Louise Kantrow called on Governments of LLDCs to partner with the private sector to enhance their countries' development.
Issued by: 
CHIBAULA D. SILWAMBA (Mr.)
First Secretary for Press and Public Relations
Permanent Mission of the Republic of Zambia to the United Nations
www.zambiaun.com