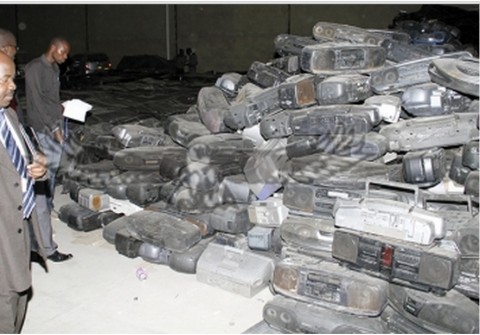 THE Zambia Environmental Management Agency (ZEMA) says it has engaged the Zambia Revenue Authourity (ZRA) to establish how electrical appliances it deemed hazardous waste were imported into the country.
ZEMA principal information and communications officer Ireen Chipili disclosed yesterday in an interview that the agency is concerned about the entry of hazardous materials at border points because it is a huge environmental cost to the nation.
"These materials, when they are not properly disposed of, produce poisonous gases which cause respiratory diseases such as asthma and bronchitis and, as ZEMA, we do not have the capacity to recycle or handle such waste.
"It is for this reason that we have engaged ZRA to prevent further entry of hazardous waste at border points," Ms Chipili said.
Ms Chipili warned that ZEMA would prosecute those violating environmental laws.
She also said the agency is also investigating a case in which it intercepted a consignment of hazardous waste at Chirundu border post three weeks ago.
ZEMA does not understand why the waste was allowed into Zambia.
"As ZEMA, we can only do this much, it is for this reason that we have collaborated with ZRA to investigate this case. We want to carry out our operations successfully and avoid any negative impacts," Ms Chipili said.
On Thursday, ZEMA, in conjunction with the Zambia Bureau of Standards (ZABS), seized hazardous electrical appliances belonging to Jan-Japan Motors.
Zambia Daily Mail