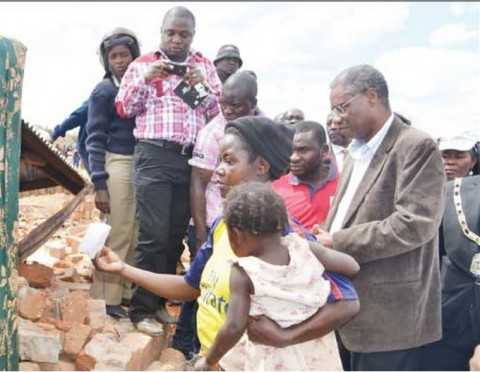 GOVERNMENT has directed the police countrywide to apply the law firmly on perpetrators of illegal land allocation because their conduct is subjecting people to misery.
Local Government and Housing Minister Emmanuel Chenda said Government had given police full backing to deal firmly with all perpetrators of illegal land allocation.
He said this yesterday when he met Kitwe Police commanding officer Lizzy Machina and other senior officers shortly after a tour of invaded land that included Mindolo North and the old cemetery in Chimwemwe Township.
The minister who was shocked at the extent of land invasion in Mindolo North by squatters, said he supported the action taken by both the Kitwe City Council (KCC) and police to demolish houses built on illegally acquired plots.
"I just hope the police will continue to deal firmly with all the culprits and please don't be lenient to anyone whether councillor or council official," he said.
Mr Chenda said some people had innocently been duped by unscrupulous people into buying plots within privately-owned piece of land in Mindolo North and ended up being victims of demolition.
"I came to have an on-the-spot check following many reports involving the issues of illegal land occupation in Kitwe and from what I have seen, if the council had not responded in the manner they did, it was going to be overrun by those criminals involved as you can see hectares of land was allocated unplanned," he said.
Mr Chenda said in dealing with the land problem, it was important to appreciate that there was artificial land shortage in many parts of the country.
He called on the KCC and other local authorities in the country to open up more land for development.
Mr Chenda stressed the need for councils to strengthen their building inspectorates to avoid rampant illegal allocation of land.
Elizabeth Bwalya, one of the affected people in Mindolo North told the minister that her family bought the plot in 2010 at a cost of K4,000 from the Resident Development Committee (RDC).
The minister was accompanied by Copperbelt Minister Mwenya Musenge, Kitwe Mayor Kelvin Sinyangwe, Town Clerk Bornwell Luanga, Kamfinsa Member of Parliament Moses Chishimba and many other Government and council officials.