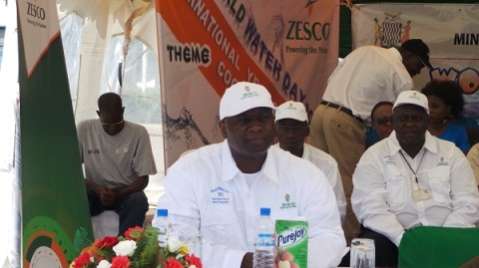 ZESCO Limited has admonished businesses in the country against using the increase in electricity tariffs as a scapegoat for increasing prices of goods and services.
Managing Director Cyprian Chitundu says this is because the 24 percent by which the Energy Regulation Board (ERB) has allowed ZESCO to increase its tariffs is minimal and does not warrant any adjustment in prices of goods and services on the premise that there will be increased production costs.
Speaking during a media briefing in Lusaka this afternoon, Mr. Chitundu has disclosed that for instance domestic customers who fall under the R1 tariff category, the tariff increment is from 15 ngwee to 19 Ngwee per Kilowatt hour which is an of increase of 4 Ngwee per kilowatts hour.
He says domestic customers that fall under the R2 tariff category the increment is from 25 Ngwee to 31 Ngwee per kilo watt hour representing an increase of 6 Ngwee per kilowatt hour while domestic customers falling under the R3 tariff category the increment is from 41 Ngwee to 51 Ngwee per kilowatt hour an increase of 10 Ngwee.
Mr. Chitundu notes that the major economic fundamentals that have an effect on ZESCO's cost of doing business which has also led to the increase in electricity tariffs include the cumulative inflation in the country and exchange rate pressures arising from the rising cost of imports.
He cites the other reasons as the need to improve service delivery, the need for continued investment in power infrastructure and high costs of power from independent power producers.
The ZESCO Managing Director has however noted that with the increased electricity tariffs which come into effect on 1st July 2014, ZESCO will in the medium to long term grow its supply capacity by developing new power projects and also purchasing power from new Independent Power Producers (IPPs).
He says for ZESCO to be able to satisfactorily implement its programme and build on its capacity to supply power to all, the sub-economic tariffs need to move towards cost reflective tariffs.
QFM