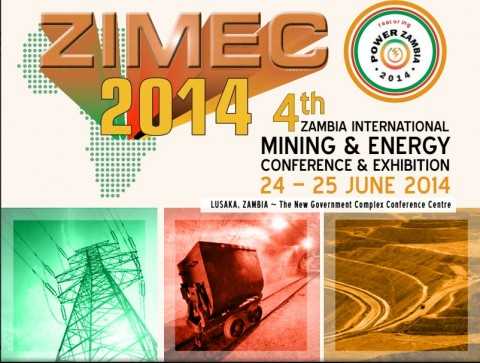 PRE – CONFERENCE PRESS RELEASE FOR ZIMEC 2014
4th Zambia International Mining & Energy Conference & Exhibition
24-25 June 2014, Lusaka, Zambia
Lusaka, June 2014– AME Trade in association with the Ministry of Mines, Energy and Water Development and the Association of Zambian Mineral Exploration Companies (AZMEC) is proud to announce the 4th edition of ZIMEC, to be held from 24-25 June 2014 in Lusaka, Zambia.
Building on the success of ZIMEC 2013, this year's conference will focus on "securing Zambia's growth by ensuring the sustainable development of its mineral and energy resources".
This year, AME Trade is running a pre-conference training day, focusing on international investment law and policy for the extractive industry for non-lawyers. The training will run on 23rd June, ahead of the conference and exhibition launch.
Run by sector experts, this programme will give you a unique insight in to the legal aspects and investment regime of Zambia today. It focuses on several major themes, including overviews of legal frameworks regulating Zambia's mining industry, and issues relating to foreign direct investment (FDI) in the extractive sectors.
The training is designed with the general theme of the conference and exhibition in mind, ensuring that you can make the most of the sessions and seminars taking place on the following days.
This year, the conference will feature two streams, focusing on mining and the energy sector in Zambia. Delegates will have the opportunity to participate in debates and discussions with key players in each sector.
ZIMEC 2014 will feature a series of smaller seminars and workshops, focused on particular areas of mining and energy. From local content issues to understanding Zambia's monetary policy, the conference will cover a range of issues that matter to key stakeholders.
Participants of the conference can also enjoy a host of social events during their time in Lusaka. There is also a chance for delegates to participate in the ZIMEC 2014 Raffle, with winners awarded at the Official Closing Ceremony on 25th June.
Contact for media:
Barbora Kuckova
Marketing Manager at AME Trade Ltd
[email protected] or [email protected]