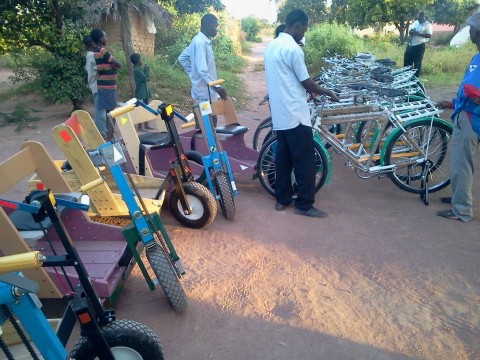 1000 vulnerable pupils given bicycles
Nakonde,  June 3rd, 2014,  ZANIS —-  Government has praised Action Aid Zambia for its continue efforts in fighting poverty in rural Zambia. Muchinga  Province Minister  Colonel Gerry Chanda says government welcomes partnerships  that work in tandem with it. ZANIS reports that Muchinga  Province Minister  Colonel Gerry Chanda said this  in a speech read of his behalf by Munchinga Deputy Permanent  Secretary Davy Chanda .
This was during the donation of 1000 bicycles donarted to the vulnerable pupils by Action Aid- Zambia in Nakonde district, yesterday. And speaking earlier Action Aid Zambia country Director Pamela Chisanga said action aid is currently operates in 17 districts which includes Nakonde. Miss Chisanga explained that her Organization's aim to alleviate poverty by coming up with intervention in Agriculture , Health and Education
She observed that walking long distances to school among female pupils had made many girl children to fall out of school. About 70 percent of girls in the district have so far benefited from the bicycle initiative. And Relief bicycles programme manager ,Lameck Kasanga, says his organization remains committed to work in partnership with government and other private companies  fighting poverty through provision of bis cycles. Pupils from  10 schools in Nakonde attended the handover ceremony that includes Ndingidi school. Action Aid Zambia has targeted to distribute  4000 bis cycles  to vulnerable pupils in Muchinga province.