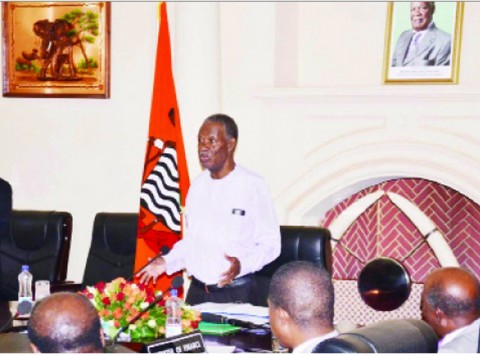 XAVIER MANCHISHI –
PRESIDENT Michael Sata has castigated people peddling malicious rumours that he is not well, saying he is fit and attending to his daily routine and other important national matters.
The President wondered what those accusing him of being sick were hoping to achieve out of the falsehoods.
"Where are the journalists? Do I look sick? Have I been evacuated anywhere. Here is the Health minister, Dr (Joseph) Kasonde tell them, have you evacuated me anywhere?" the President asked.
The Head of State was speaking at State House when he addressed journalists shortly before chairing a Cabinet meeting in Lusaka yesterday.
Mr Sata said insinuations that he had been evacuated to an unnamed country for medical treatment were a total fabrication as he was fully fit and working normally.
He said only Health minister Joseph Kasonde could arrange an evacuation for the Head of State if it was necessary but that since both himself and the minister were part of the Cabinet meeting, it showed that the messages were a total fabrication.
He said the 'Doubting Thomases' who dispelled the picture of the President working in his office would now be shamed that even cameras from ZNBC showed him yesterday in good health and working normally.
"Go and tell them that you found me here working. The UPND wants to gain mileage by saying I am sick, go and tell them I am working and I have not been evacuated anywhere not even to Mpika," he added.
During the same meeting, the President directed his ministers and Members of Parliament to take advantage of the fact that Parliament is on recess to visit their constituencies and get first hand information on the needs of their constituents.
"You really surprise me you ministers, Parliament is now on recess so go to your constituencies and supplement the needs of people don't just sit here," he said.
Mr Sata said as long as ministers continue sitting in the comfort of their offices, it will give ammunition to the opposition to start spreading falsehoods to the people of Zambia.
He laughed off  United Party for National Development (UPND) deputy national chairperson Mutale Nalumango's attempt to address party members in Muchinga Province which according to the President only drew kids aged between 10 and 15 years.
"Don't wait for Parliament. Go and supplement the people. Look at Ba Nalumango she went to Mpika and only children of 11 and 15 years attended her meeting. Don't blame the reporters when you just sit in your offices," he said.
Later, the President chaired a Cabinet meeting.
Times of Zambia