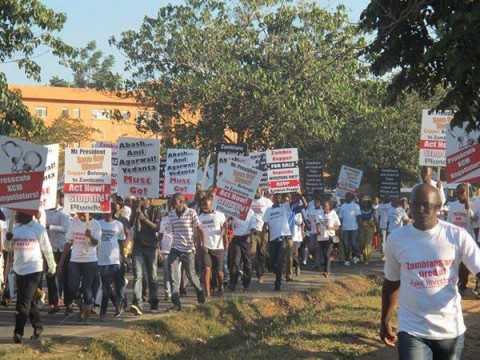 Hundreds of protestors marched to the Headquarters of Konkola Copper Mines in Lusaka on Thursday over the recent controversy regarding the mining giant's tax practices.
The demonstrations were organised by ActionAid in Zambia.
The protest follows the YouTube release of a video of Vedanta Chairman Anil Agarwal apparently mocking Zambia at a trade conference over the giveaway price he paid for KCM assets.
ActionAid Zambia Country Director Pamela Chisanga said:
"Zambia's citizens are up in arms. If KCM is engaged in tax avoidance, it would be depriving Zambia of vital revenue through taxes and dividend payments to the government.
Tax is vital, it pays for schools, hospitals and roads. When big companies don't pay their fair share, Zambia's citizens suffer. Vedanta and KCM must pay their fair share of tax.
The Zambian government should carry out a forensic audit of KCM accounts and publish the results." Hot Fm