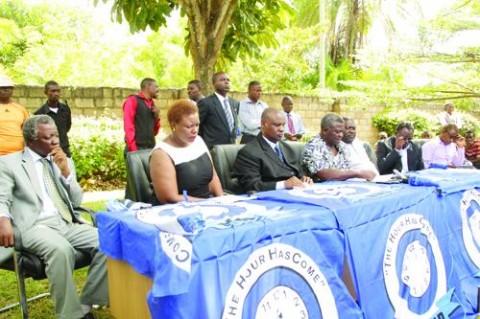 MMD vice-president Michael Kaingu has said President Sata will scoop the 2016 elections by a wide margin in most parts of Zambia.
Dr Kaingu says if elections were held today, the Patriotic Front (PF) would win because it is currently the most popular party.
"If we had to go for elections today, PF would win in Luapula, Muchinga, Northern, North-Western, Central, Copperbelt and would be second in Southern and Western provinces," he said.
Dr Kaingu was speaking in Lusaka on Millennium Radio's The Interview programme yesterday.
He said the MMD under Dr Nevers Mumba is headed for doom because its president cannot win elections even at ward level.
"Dr Mumba cannot win at ward level even in Chinsali, where he comes from, and this is the problem that we have," Dr Kaingu said.
He said the MMD is dying and there are serious steps that are supposed to be taken to revive the party.
Dr Kaingu said the party should go for a convention at which it can be rebranded.
He said the MMD in its current form has nothing to offer to the people and that the former ruling party is not performing its role of providing checks and balances.
And Dr Mumba has said some senior party officials are likely to leave the former ruling party and not he because they are not ready to embrace the new vision of the rebranded MMD.
Dr Mumba says contrary to assertions by his two vice-presidents Brian Chituwo and Kaingu as well as MMD spokesperson Dora Siliya that he has failed to run the former ruling party, he has actually saved it from dying.
"By the time I took over MMD very few Zambians wanted to hear the name MMD. They just rejected it at the polls – it was in the doldrums.
"People did not want to hear certain names which you are mentioning (Brian Chituwo, Michael Kaingu and Dora Siliya) because they thought that they had enough of it," Dr Mumba said.
Dr Mumba said on Sunday when he featured on a special programme on Kabwe's KNC Radio that his job is to recreate the MMD so that it can realign its policies with the aspirations of Zambians.
Dr Mumba cited perceived arrogance, corruption, and the party being more responsive to foreigners than Zambians as some of the factors that led to its loss in the 2011 tripartite elections.
Dr Mumba said after he was elected MMD president, he led the party to undertake a "brutal assessment of itself" and measures to fight corruption and other factors that led to its loss are in place.
He said as part of rebranding, "new faces" are joining the party so that it can be run with a new approach.
Dr Mumba said wrangles in the MMD  are mere 'birth pains' which will result in  the  new and strongest political party in Zambia.
"We need to know who is with us, to know who is able to play this role of the new MMD, to know who is failing to catch up with the new developments in the new MMD," he said.  "We want everybody to run with us but it is not possible that everyone will come with us."
Retracing the history of MMD, he said after Dr Frederick Chiluba won the presidency in 1991, "giant members" such as Humphrey Mulemba, Akashambatwa Mbikusita-Lewanika, Baldwin Nkumbula, and Emmanuel Kasonde left the party but Dr Chiluba continued being president.
Dr Mumba also said when Dr Chiluba was handling over power to Levy Mwanawasa, 22 strong members among them Godfrey Miyanda and Christon Tembo left the MMD but Mr Mwanawasa became President and the MMD continued.
He further stated that during President Banda's, reign,  people like Sylvia Masebo, Ng'andu Magande, George Mpombo and Mike Mulongoti left but the MMD continued.
"Under my watch as president of MMD, I will not allow this party to die. I am getting ready to get the party back into government. That is my preoccupation and that is my goal," Dr Mumba said.
Dr Mumba said that the PF will not win the 2016 elections because it has failed to deliver on its campaign promises.