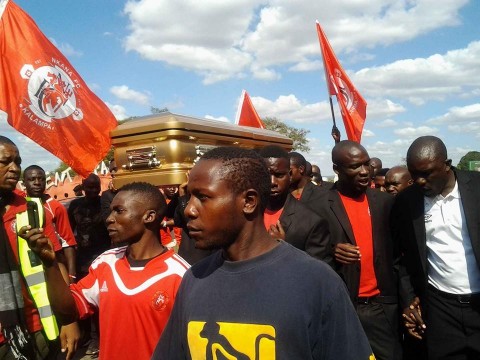 ●Late Nkana boss put to rest today at Kansenshi Cemetery in Ndola
●Memorial service at Levy Mwanawasa Stadium conducted by Bible Gospel Church in Africa (BIGOCA)
● Devout Christian Coach Massy, 50, was killed when his Toyota Harrier overturned Friday evening on Ndola-Kitwe carriageway near Maposa.
●The CAF coaches instructor famously once toldBenedict Tembo in an interview: "Jesus Christ is my mentor. He is the coach of all coaches. He is the best coach of all."
●Was Chipolopolo assistant coach Africa Cup 2013.
●I named him one of the best three coaches in Zambia in 2012 in my defunct Zambia Daily Mail column when he saved Konkola Mine Police from relegation after taking over when Gideon Mwenya's side was in relegation zone.
●Official 2013 Zambia's best coach after landingNkana their first title in 12 years, Kalampa's 12th, in his first season in charge at Nkana Stadium
Playing Career (1978-1994): Centre forward-Mpelembe Utd, Workman Compensation, Ndola Wanderers, Ndola Utd and Indeni.
Coaching career(1994-2014): WorkCom, Ndola Wanderers, Mufulira Wanderers, Ndola Utd, Indeni, Nampundwe, Forest Rangers, Zamtel FC, Zesco Utd, Konkola Mine Police and Nkana.
Major Honours: 2006: Saved Zesco from relegation after Wesley Mondo was fired finishing in the top 8. WON Mosi Cup.
2009-Assistant to Fighton Simukonda when Zesco reached Group phases of CAF Champions League
2013-Africa Cup assistant coach
2013: Super Division title Winner
2014: CAF Club Confederation Cup group phases
In spells as assistant coach to another God fearing coach Pastor Wedson Nyirenda he won back to back Super Division titles in 2007 and 2008 with Zesco Utd.
Coach Massy was a football evangelist par excellence.
I met him with Lo Renzo last year at Woodlands Stadium before Nkana won the title.
He was a humble down to earth man. We spoke briefly and he easily gave us his number without any fuss.
His love for God was evident. Many attest prayer and the Bible were second nature to Mwale.
It is not surprising that he proclaimed "favour" on Nkana and the popular club turned from stone throwers in the last decade to title winners.
He loved to say: "God's time was the best."
Was this the best time or way to go Ba Masauso sure?
Anyway, only God knows why you had to go this early when your beloved wife Matidah,your 4 children: Blessings,Chisomo, Chikhulupiliro and Favour, Nkana and Zambia still badly needed you.
Go well God's faithful servant and take your rightful place among the angels in heaven!
*Compliments to Benedict Tembo for some facts.
NKANA FC