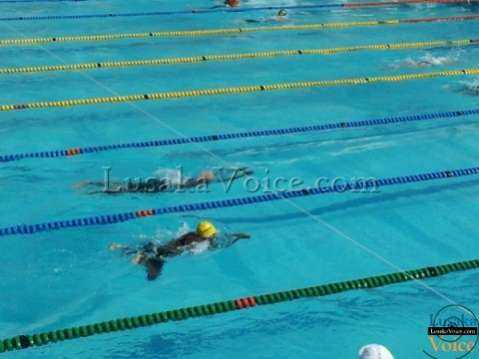 ZAMBIA'S pursuit for medals at the 2014 Africa Youth Championship in Botswana started on a sound note when Alex Axiotis and Ralph Goveia stormed the finals of the 100m breaststroke.
Axiotis managed a sixth place finish timing 1:08:96 to claim a place in the finals despite failing to beat his personal best of 1:06:87 while Goveia clocked 1:10:48 also failing to beat his personal best of 1:08:51.
The two Zambian swimmers will need to improve on their timings to keep alive hopes of winning medals especially that South African Alaric Basson put up an impressive 1:05:42 to win the heat.
Basson was followed by Mohammed Khalaf of Egypt who timed 1:05:64 with country-mate Ali Mohammed clocking 1:05:77 while in fourth place was Micah Fernandes of Kenya with a time of 1:07:20 and Bryan Gray of South Africa finished fifth on 1:07:28.
Axiotis is also in line to compete in the backstroke final category after finishing ninth to be put on the reserve list for the finals and might battle for a medal should any of the finalists fail to compete.
It was, however, a bad start for Kamarene Naidu who clocked 1:09:60 to finish in 15th position as Mataka Mapalo was eliminated following a13th place finish with a worst time of 5:40:36 in the 100m freestyle.
Zambia's female swimmer, Nakawele Sakala equally tumbled timing 41:40 in the 50m breaststroke.
Coach Ian Stephenson said in an interview that he was not disappointed with the performance of his swimmers and was confident of minting a medal during last night's finals.
Stephenson expressed confidence that the Axiotis and Goveia will do the country proud.
He hailed all the swimmers including those that have failed to qualify
stating that despite failing to make to the finals they performed better than usual.