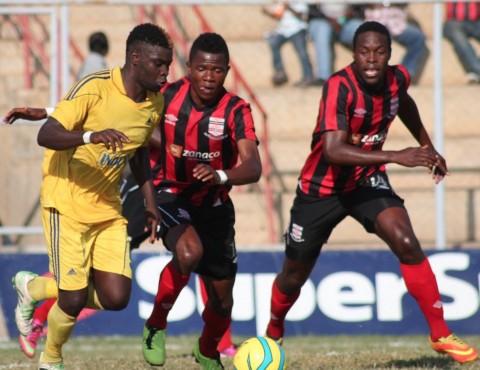 Senior Women Chipolopolo national soccer team arrived in Zimbabwe yesterday safely and will this afternoon have a training session at the Rufaro stadium in Harare.
Coach Charles Bwale confirmed the development saying all the players are in good shape and are focussing on the Sunday "Battle of the Zambezi" The winner of this "battle"will qualify to the Namibia Senior Women Africa cup finals later this year.
And the Mozambique Under twenty national soccer team will arrive this afternoon.The young "Mambas" will touch down at Kenneth Kaunda International Airport at 12:35 aboard South African Airways.
Mozambique are in the country carrying a two deficit suffered in their backyard two weeks ago.The two neighbors are fighting for s slot at the 2015 Senegal Afrca cup of Nations for the youth.
The Mozambican team will be accommodated at Golden Peacock in Lusaka.Match Officials are from Mauritius except the Commissioner who is from Malawi.
And Chipolopolo Under Twenty coach Hector Chilombo is very confident the team will not be swayed by the two nil victory recorded in Maputo two weeks ago.
A visit to the training ground yesterday revealed the high levels of optimism in the boys who have promised nothing short of victory.
Senior Chipolopolo coach Patrice Beumelle has joined the coaching bench and was seen yesterday helping the boys through their training.
The match takes place on Sunday Mat 25 at 15 hours at Nkoloma stadium. Charges for this match are K20 open wing and K50 grand stand. Ticket sales will be on sunday starting at ten hours at the stadium.
In Kitwe Nkana are up against Sewe sports of Ivory Coast, in a Confederation Cup match on Saturday at Nkana stadium starting at fifteen hours. Nkana wil miss the services of towering and Chipolopolo defender Christopher Munthali who is serving a two match ban. Last week Nkana had a bumpy start in their campaign going down by two goals to nil at the hands of Egyptian giants Al Ahly.