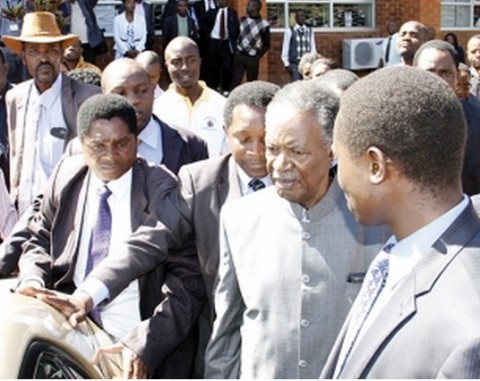 PRESIDENT Sata says he had no involvement in any transactions between the Development Bank of Zambia and JCN Holdings.
And President Sata says he played no role in the termination of employment of the bank's legal secretary Vincent Malambo as alleged by the Daily Nation newspaper.
This is in a case in which Mr Sata has sued Daily Nation proprietor Richard Sakala, former President Rupiah Banda's lawyer Robert Amsterdam and University of Zambia (UNZA) lecturer Choolwe Beyani for defamation.
The President has sued the trio in connection with stories published in the Daily Nation regarding a statement suggesting that he is protecting his "rich friends Mutembo Nchito and Fred M'membe from paying back the K14 billion owed to Development Bank of Zambia".
The President, in an unprecedented decision, testified before acting Supreme Court judge Florence Lengalenga sitting as High Court judge after being shown documents from the DBZ involving transactions between the bank and JCN Holdings that "the documents are dreams of criminals".
He said the shareholders of JCN Holdings, Fred M'membe, Mutembo and Nchima Nchito are not his personal friends but that they are Zambians just like everyone else and that he was not aware that they had borrowed money from the bank.
President Sata said he has never helped anyone borrow money from DBZ.
"Every Zambian who is not a criminal is my friend; only criminals are not my friends. Those people are Zambians like others. Have you ever seen anyone tell you that they want to borrow money? You just hear about it when they fail to pay," he said.
The President said he had no involvement in the termination of employment of Mr Malambo, adding that he could have been fired by DBZ because the bank felt that he was incompetent.
President Sata said he is not corrupt and that it is his duty as President to protect institutions such as the DBZ that are under his control and that he is saddened when people borrow money but do not pay back.
He alleged that Mr Malambo borrowed money from the DBZ.
The President said Mr Sakala should have verified his facts before allowing the article in which he alleged that he had a hand in the firing of Mr Malambo and that he was protecting JCN Holdings shareholders who owed DBZ K14 million.
President Sata said Zambians are entitled to the truth and that newspapers should not deceive them by writing lies to sell.
"The problem was that the whole story was lies. How would you feel if someone insulted you publicly? He did not verify before publishing the story," the President said.
He said Mr Sakala tarnished his image as President and that he should not be used to hurt people that he and Dr Beyani dislike.
"Mr Sakala and Dr Beyani are fraudulent liars. If they are corrupt and believe in corruption, I am not corrupt.The two should not ask me to hurt people they do not like," Mr Sata said.
Earlier, defence lawyer Ian Mabbolobbolo asked the court to adjourn the matter for cross-examination to a later date to allow him get instruction from his clients.
Mr Mabbolobbolo said his client wanted to engage additional lawyers to represent him and that he needed to compare notes with the lawyer that would be engaged.
Mr Mabbolobbolo had earlier asked the court to adjourn the matter to allow his clients beef up his legal team to enable them exercise their constitutional right of having adequate representation.
But President Sata's lawyer Bonaventure Mutale asked the court to dismiss the application, saying that Mr Mabbolobbolo was competent to handle the defence as he has been doing so far, to which justice Lengalenga ordered that the matter proceeds.
In her ruling, on the second adjournment, Justice Lengalenga said she could not decline the application if Mr Mabbolobbolo was not free to proceed with cross-examination, and  that justice should not only be done but that it should be seen to be done.
She cautioned Mr Mabbolobbolo that she would not entertain any similar adjournments because the President is a busy person who would travel out of the country at any time or maybe attending to other national issues.
It is alleged that Mr Sakala, Dr Beyani and Mr Amsterdam caused to be published material where they accused President Sata of putting pressure on the Office of the Attorney General to close the K14 billion DBZ debt to JCN Holdings and The Post newspapers.
Mr Sata claims that in their natural and ordinary meaning, the words were meant that and were understood to mean that Mr Sata was corrupt and lacked integrity and had abetted corruption and the abuse of public funds.
The President also claims that the words also meant that he caused Mr Malambo to be removed from acting on behalf of the bank.
Zambia Daily Mail