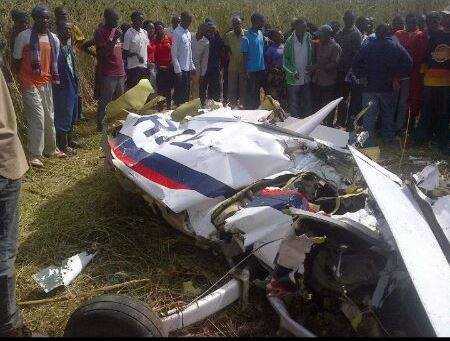 May 20, 2014 – His Excellency Mr. Michael Chilufya Sata, President of the Republic of Zambia, is deeply saddened at the tragic death of Zambia Air Force (ZAF) Deputy Commander Major. Gen. Muliokela Muliokela and Colonel Brian Mweene, who died in a plane crash in Lusaka West on Monday.
In his message of condolences to the Muliokela and Mweene families, President Sata expressed shock at the death of the two senior airforce officers.
"As Commander-in- Chief, it is with sadness that I have learnt of the death of Gen. Muliokela and Col. Mweene whose untimely demise is a great loss not only for our defence forces, but for the country as a whole," President Sata stated.
"On behalf of the Government and people of the Republic of Zambia and indeed on my own behalf, I wish to express our deepest condolences to the bereaved families and the entire Zambia Air Force."
The Head of State stated that the duo would be deeply missed by the people of Zambia.
"The late Gen. Muliokela and Col. Mweene were vibrant pilots who discharged their duties professionally and leave a legacy of great patriotism and passion for the country and its defence forces. Our brothers will be sorely missed by all who knew them for the ideals that they firmly stood for, having dedicated their lives to selfless service of the Zambian people up to the time of death," the President stated.
"During the period of mourning, we commiserate with you and join you in spirit, prayerful reflection, and beseech the Almighty to grant the bereaved family and the entire air force his abundant mercy, solace and fortitude to bear the burden of this great loss. May the souls of our departed compatriots rest in eternal peace."
Issued by:
GEORGE CHELLAH
SPECIAL ASSISTANT TO THE PRESIDENT
PRESS AND PUBLIC RELATIONS