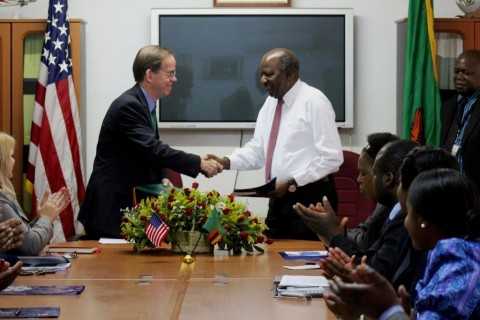 THE US charge de affaires David Young says the American embassy will continue talking against political violence in the country.
Mr Young says the US mission will not tire in condemning political violence because it is an affront to democracy.
He was speaking on Friday evening when the US embassy public affairs officer Janet Deutsh hosted several senior journalists and media heads to commemorate this year's World Press Freedom Day.
Mr Young said political violence has remained an issue of concern to the US embassy.
"We will continue to raise concern over political violence. We believe dialogue is key to resolving any differences between political parties," he said.
And Mr Young lauded Zambian journalists for their role in reporting about political violence and other matters affecting democracy.
"I really appreciate your work as journalists, especially that I was once a journalist before I ventured into diplomacy," Mr Young said.
He said the role of journalists is critical in a democracy.
"Journalism is a sacred trust and we hope to see more media freedom in this country," Mr Young said.
Meanwhile, veteran journalist Brighton Phiri says most citizens have left the need to press for the Access to Information (ATI) law to media alone.
Mr Phiri says the fight for the ATI legislation has been left to the media alone when the law should benefit everyone.
"The ATI law if passed will benefit all of us. Why has this battle been left to media alone?" he wondered.
Mr Phiri was speaking during a meeting on Friday afternoon that saw various media stakeholders come together at Lusaka's Mulungushi International conference centre to deliberate on a number of issues affecting the press in Zambia.
Mr Phiri who is now communications officer for the Press Freedom Committee of the Post (PFC) called for pooling of resources by various stakeholders to advance the cause of the media.
"This crusade must not be left to the media alone. Everyone must get involved," he said.
At the same function, veteran media trainer Fackson Nkandu said journalists should not hindered from doing their work because they are partners in development.
And the 2014 World Press Freedom Day organising committee chairperson Henry Kabwe said ATI law once passed will help government monitor the money that it releases for various projects.
"Our journalism must now be that of advocacy. We must move our nation forward. This therefore makes the ATI critical ," Mr Kabwe said.
Radio Mano