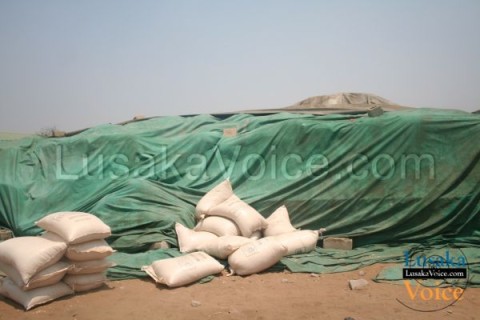 Farmers in Chief Munkonge's area have complained of unscrupulous maize traders who have invaded the area.
The farmers who stormed ZANIS offices today have since appealed to government to quickly announce the floor price of maize for the 2013/2014 marketing season.
one of the farmers, Stephen Kangwa of Chiombo village said the unscrupulous traders are already in the area giving money to peasant farmers as advance payment for their produce.
Mr. Kangwa alleged that the traders were buying a 50kg bag of maize for as low as K35 from desperate farmers who are in dire need of money.
He noted that the announcement of the flow price will help farmers from further exploitation by the unscrupulous briefcase traders.
Meanwhile, farmers in Kasama have appealed to the Food Reserve Agency (FRA) to build more storage facilities in view of the expected bumper harvest in Northern Province.
The farmers said storage facilities were very important in preserving the maize crop from going to waste.
The Zambia National Farmers Union (ZNFU) has forecast a maize bumper harvest in Northern Province this season.