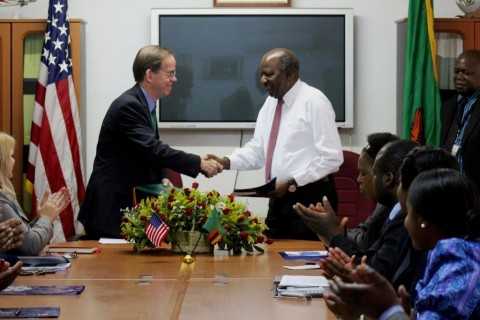 United States of America Charge D' Affairs in Zambia
United States of America Charge D' Affairs in Zambia David Young says Zambia must ensure that political violence does not undermine democracy.
Mr Young says incidences of political cadres involving themselves in violence are of great concern because of its negative impact on the country's young democracy.
He was speaking during a special ZNBC radio two programme on relations between the USA and Zambia.
Mr Young says Zambia has an impressive record of democracy which should be safe guarded.
He says it is important that Zambia continues to watch out for the threat of violence on its democracy.
Mr. Young says Zambia should also ensure that freedoms of speech and assembly are guaranteed.
He says the media in the country should strive to give all stakeholders an opportunity to express themselves.
Mr Young says America will continue collaborating with Zambia in various areas as the country celebrates the golden jubilee.
He says America is looking forward to participating in the celebration of the of Zambia's golden jubilee.
znbc