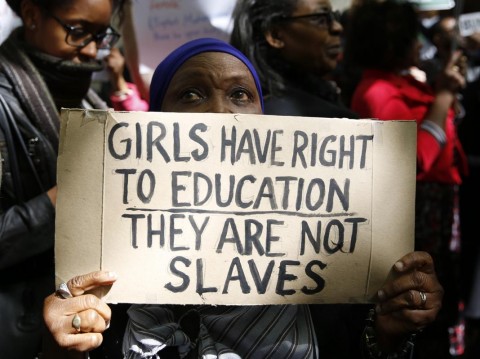 The international effort to rescue the 276 schoolgirls being held captive by Islamic extremists in northeastern Nigeria was boosted Friday when British security experts joined the Nigerian and American forces trying to rescue the missing students.
As the worldwide effort got underway the weakness of the Nigerian military was exposed in a report issued by Amnesty International.
Britain said its aim was not only to help with the current crisis but to defeat Boko Haram.
"The team will be considering not just the recent incidents but also longer-term counter-terrorism solutions to prevent such attacks in the future and defeat Boko Haram," the Foreign & Commonwealth Office said in a statement Friday.
The American team was joined by six additional military officers and more are expected soon, said Pentagon spokesman Navy Rear Adm. John Kirby. The U.S. officers will do a "gap analysis," an assessment to identify what the Nigerian military needs that the U.S. could provide in the search for the girls, he said.
Hostage negotiations is another area where the American team will assist, said U.S. State Department spokeswoman Jen Psaki.
China, France and Spain have also promised help.
Demonstrations in support of the missing Nigerian girls have been held around the world and a social media campaign —dubbed #BringBackOurGirls — continued to grow.
In New York, the U.N. Security Council hinted at sanctions against Boko Haram. In a strongly worded statement, the council condemned a May 5 attack that killed and injured hundreds and demanded the immediate release of the kidnapped girls.
CounciI members also expressed their intention "to consider appropriate measures against Boko Haram," which in diplomatic language means possible sanctions.
The weakness of the Nigerian armed forces was highlighted Friday in a report which said the military did not respond to warnings that Boko Haram rebels were about to attack Chibok, the town where the young women were abducted from their school.
Nigerian security forces had four hours of notice about the April 15 attack by the rebels but did not react because of their fear of engaging the extremists, said Amnesty International, in a report citing multiple interviews with credible sources.
"This abduction could have been prevented," Amnesty spokeswoman Susanna Flood said of the Nigerian military's inaction.
The critical report reinforced earlier reporting by AP in which a Chibok official said he had alerted the military of the impending attack but no reinforcements arrived, allowing the insurgents to abduct the schoolgirls.
The mass kidnapping of the schoolgirls has focused the world's attention on Boko Haram and on the response of President Goodluck Jonathan's government.