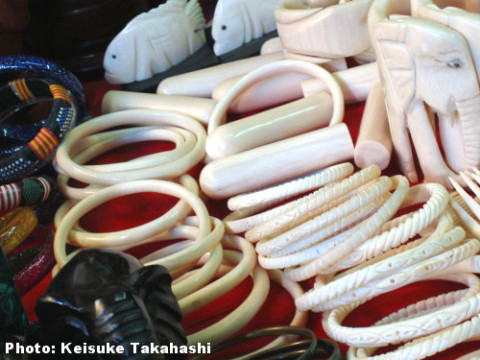 Border Enforcement Officers at London Heathrow Airport have intercepted a DHL package weighing 10kg containing various crafts, among them 211 items made of elephant ivory and disguised in shoe polish.
The Zambia Wildlife Authority (ZAWA) last week received a report from INTERPOL saying on April 2, 2014, they examined a DHL courier packaged in transit from Zambia to Paris, France, which contained 211 assorted ivory items covered in shoe polish, 4x wooden bangles and 2x masks and that no Convention or International Trade In Endangered Species (CITES) export permit accompanied the goods.
ZAWA Communications and Public Relations Officer, Mwila Readith Muliyunda, confirmed in a statement to ZANIS in Lusaka May 9th.
He said the shipping details indicated the package was sent from Lusaka en-route to France, sent by 32 year old Melton Chilufya, of 31 Helen Kaunda in Lusaka to Mukendi Kampuki Joseph of 19 Avenue de Royaumont, Bat 2 Apartment 1001 95270 Viarmes, Paris, France.
Ms Muliyunda, upon receipt of the information, made ZAWA follow up investigations that led to the apprehension of Melton Chilufya, who led officers to his current residence in Garden House area along Mumbwa road, where a search was done and two airway bills were found and one of them was addressed to Mukendi Kampuki of the mentioned address in Paris.
She further said examination of the shipping information and nature of the contraband revealed that the method of disguising the ivory with shoe polish was similar to that of a recent arrest involving Langson Ngwira, 25, who was found with 15 kg of ivory curios intercepted at Chirundu border by the Drug Enforcement (DEC) Officers on April 26, 2014.
The ZAWA spokesperson said Ngwira, who is currently detained at Chirundu Police Station, has the same residential address as Melton Chilufya.
She disclosed that Ngwira said he had obtained the items from a Congolese national by the name of Liyon Papa of House No 202, Harare, Zimbabwe.
Ms Muliyunda said the two cases have been linked together.
ZAWA has since written to INTERPOL requesting the United Kingdom Police to re-ship the said contraband back home to Zambia's ZAWA in order to assist with further investigations.
"ZAWA is once again cautioning members of the public against engaging themselves in illegal international syndicates as they risked being prosecuted," she warned.