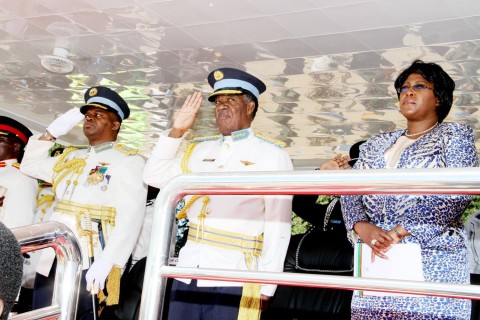 Republican President Michael Sata has called for the preservation of Zambia's peace.
Speaking during the commissioning of Zambia Air Force (ZAF) officer cadets at Harry Mwaanga Nkumbula International Airport in Livingston this morning, President Sata says Zambia has continued to enjoy peace and stability and that it is important that this status quo is maintained.
President Sata says there is also need to ensure that men and women in uniform are comfortable as they continue to do their duties of preserving peace.
The Commander-in-Chief of the Armed forces, who touched down at Harry Mwaanga Nkumbula international airport at 10:10hours aboard the presidential jet says military personnel are there to promote peace and stability in the country.
President Sata also jokingly cautioned military personnel against using guns for criminal acts or beating their spouses but rather use them for intended purposes.
Speaking at the same event, ZAF Commander Lieutenant General Erick Chimese noted that government has shown interest in ensuring that the military wings are well equipped as they have been able to buy enough equipment since 2011.
General Chimese is hopeful that the one hundred officer cadets who have been commissioned today will provide the necessary security in the country.
He also disclosed that the one thousand and one houses that were built at ZAF Twin Palm have already been occupied by some officers and that those who are not accommodated within the camp are paid well to rent accommodation elsewhere.
qfm