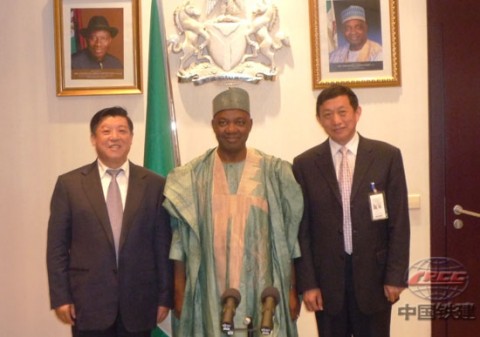 A leading Chinese construction company says it is ready to work with any African country willing to set up an Economic Development Zone (EDZ) if such a venture was requested for and supported by government.
China Railway Construction Corporation Limited (CRCC) vice president and Executive Director, Zhenyi Hu disclosed his company's determination in an interview with ZANIS in Beijing today.
Mr. Zhenyi, who earlier addressed African Journalists who toured the China Railways Museum where the CRCC offices are located, told the African scribes that his company has constructed the Nigerian Economic Development Zone on a 30 kilometre (km) square ground, a project he said has the potential to contribute to the economic development of any country.
He said the Nigerian government drew the plan which his company improved and worked on to come up with the modern city with all the structures befitting a new town.
He added that any country willing to undertake a similar project with the CRCC will be given the technical support.
The CRCC Executive Director also disclosed that his company was currently undertaking 366 projects in Africa valued at US$44 billion.
"We are operating in over 20 Africa countries with 366 ongoing projects with a total value of 44 billion US dollars," said Mr. Zhenyi.
He explained that Algeria, Libya, Egypt, Sudan, Ethiopia, Djibouti, Kenya, Burundi, Uganda, Rwanda and Tanzania are some of the African countries CRCC is operating in.
Others are Nigeria, Ghana, Cameroun, Congo and Democratic Republic of Congo, Angola, Botswana, Namibia, South Africa, Zambia and Zimbabwe.
Mr. Zhenyi said CRCC is currently undertaking four projects in Zambia involving the construction and renovation of highways at a cost US$100 million.
He said in Nigeria, a total of 147 projects are being undertaken by his company at a total value of US$12.8 billion while in Angola 53 projects are being worked on while the three projects in Libya have been suspended due to political instability.
During the same meeting, China Civil Engineering Corporation (CCEC) Deputy General Manager, Lv Jing said the Chinese government and his company in particular attached great importance to the Tanzania-Zambia Railway (TAZARA).
Mr. Lv said the Chinese leadership was working on modalities to help boost the operations of the transport company.
He said CCEC, as a subsidiary company of CRCC, is charged with the responsibility to find a solution for TAZARA once the preliminary reports that were sent to the Chinese government in June 2013 were finalised by the Chinese Ministry of Transport.
He stated that the reported TAZARA operation problems also affect the Chinese because they were equally eager to see the once vibrant rolling stock operate as in the early years.
"TAZARA is a symbol of cooperation and heritage which the new generation Chinese are determined to uphold to keep the legacy of the founding fathers," said Mr. Lv.
Mr. Lv also said the Chinese government looks forward to TAZARA reforms as it studies proposals from the two governments of Tanzania and Zambia.
The CCEC Deputy General Manager disclosed that the Chinese government was studying three modalities which include a joint venture, concessioning and management construction with the hope of picking the best option to help bring life to TAZARA operations again.
He further said his company has been sending experts to TAZARA since its construction and so far 15 expert groups have visited the transport company with the view to give technical support.
TAZARA was constructed by China Railway Construction Corporation (CRCC) and China Civil Engineering Corporation (CCEC) hence their attachment to the shared railway company.
TAZARA, which runs from Dar es Salaam port in Tanzania to Kapiri Mposhi in Zambia, has a stretch of 1,860 kilometres constructed in five years. The actual construction started in mid 1970s for an estimated seven year period but it was completed in June 1975 which was two years ahead of schedule.
TAZARA is said to have been constructed as a turnkey as it is the first major international project undertaken by CRCC in Africa and an opener to all the other projects in the continent.
And Mr. Zhenyi said if CRCC was given the same project today, the company will only take three years to complete the construction as it has acquired advanced technology and improved equipment.
He said CRCC is the biggest construction company in China and second biggest in the world, operating in 62 countries and regions and has over 30 subsidiary companies specialised in various construction works, industrial manufacturing, logistics and trading.