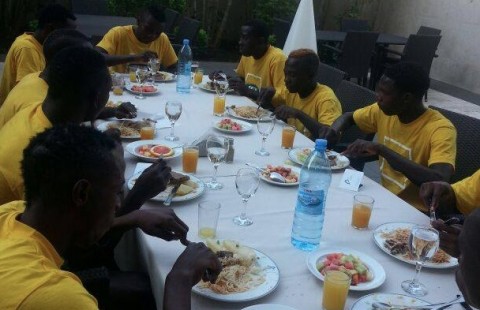 The Zambia Under Twenty has had their second day of training in Mozambique ahead of tomorrow's Senegal 2015 clash with hosts Mozambique.
The match will kick of at fifteen hours Mozambican time.(15hrs Zambian time)
According to delegation leader Jeff Chipilingu, the team is in high spirits and looking forward to tomorrow's encounter.
The junior Chipolopolo arrived yesterday at 15 hours and were met by officials from the Zambian embassy in Mozambique,Col Maimbo Muzyamba and Mr Wisdom Kapwasha.
This afternoon, the team will be visited Zambia's acting Ambassador to Mozambique,Mrs Kawi Mporokoso.
"The team is booked at Afric Prestige Hotel, I am short of reporting that, it is an excellent hotel" Mr Chipilingu said.
Football Association of Zambia (FAZ)