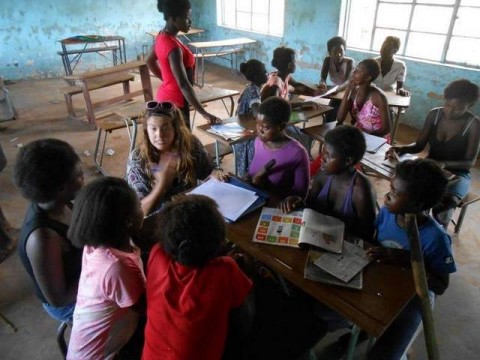 Camp GLOW (Girls Leading Our World) is a program by Peace Corps Volunteers worldwide to educate young girls on their worth, life's possibilities and the importance of female-empowerment to women everywhere.
Started by Peace Corps Volunteers in Romania during the mid 1990s, the Camp GLOW program has spread across the Peace Corps landscape, including Zambia. And in Zambia GLOW camps are held once a year in each of the provinces that Peace Corps Volunteers work in.
In my province, North-Western, GLOW is managed by a volunteer named Katie Costello. She lives and breathes female empowerment and I'm pretty sure if GLOW hadn't been created nearly 20 years earlier she would've created it herself in Zambia.
Katie says the camps are designed to teach life skills to the girls, who range from grades 6 through 9. Some of the life skills taught are obvious — like goal setting, record keeping and the importance of higher education in a person's life.
But some of the other topics aren't as straightforward — such as female anatomy (it's not often taught in the schools because of its taboo nature), family planning and education about the myths and realities of HIV, as well as sexual abuse awareness.
Katie and other volunteers facilitate the discussion of these topics through small group discussions, arts and crafts sessions and skits. But GLOW is also about enjoying life, so there are talent shows, games, and dancing for the participants.
Organized by volunteers, provincial GLOW camps are attended by a counterpart (usually a teacher) that the volunteer works with and two female students from the volunteer's community.
The hope is that the Zambian counterpart and the two students will take the knowledge that they've gained through the week-long camp back to their communities and start GLOW clubs for all the girls there. They'll use the materials and knowledge gained to peer-educate the other girls from their community.
Katie says that two reasons she likes Camp GLOW is that the girls come out feeling more confident. They discover that "they're not always alone in their hardships, others are going through the same things," she said.
Issues that these young girls face include gender inequality, economic-dependency, inadequate access to education, gender-based violence and inadequate representation in the government and work place.
One session during the camp focuses on these difficult issues. In the session the girls form a silent circle and are asked simple questions regarding their lives to start out. As the questions continue they progress in their complexity and seriousness.
For example, the girls are asked if they know someone who has ever been a victim of gender-based violence. The girls step forward in the circle if they agree with the statement or they remain at their place if they do not agree.
This exercise gives the girls a chance to see that other girls have experienced similar situations while not being forced to explain.
After 20 questions, the girls break off into small groups led by high school girls called junior counselors and share their stories. No volunteer or teachers are present and the girls talk for hours about their experiences.
Because seeing is believing and young minds are impressionable upon what they personally see, GLOW Camps also use career panels made up of women that have bettered their own lives through education and social equality.
The career panels allow the girls to ask the guests about how they too can better their lives in the years to come — essentially helping them to see different routes to self-improvement.
Camp GLOW is a great time for the participants, they make new friends, laugh, learn and have fun, but it's so much more. They realize that "they do have the power to change their lives," Katie said.
It's setting the stage for change and what can happen over a lifetime, not just between the four walls of a classroom. Because, right now, throughout the world, a girl without an education is treated as a second-class citizen, and even if changing one life at a time seems tedious, that change will be complete, and it will be worthwhile.
Jordan Blekking of Pennfield is in Zambia as a member of the Peace Corps. His dispatches are reviewed by the Peace Corps before they're sent. Reach him at [email protected] or visit his blog, jordan blekking.blogspot.com