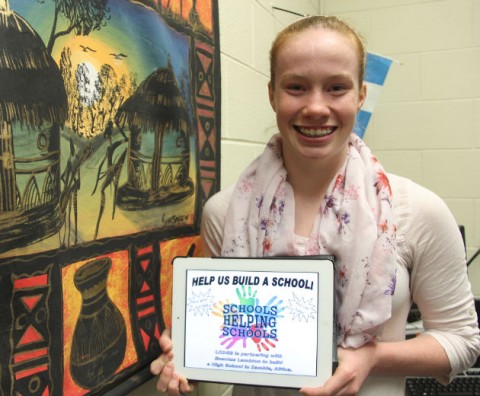 Thousands of Sarnia-Lambton and Chatham-Kent high school students plan to help raise the roof in Zambia.
A $10,000 fundraising drive is underway at the Lambton Kent District School Board to help build a high school in the village of Kasaka.
Members of the board's student senate are spearheading the campaign after Enactus Lambton, which heard about the students' plans to do collaborative fundraising for a cause, approached them.
"Our focus was to help education in another country that isn't so well off because we're so well off here," said student trustee Emily Schaefer.
Each year, only two students in the Zambian village go to high school because it is a two-hour walk away, according to Enactus Lambton.
But the importance of education is strengthening in the community thanks to support from the student-run humanitarian group.
Lambton College students recently encouraged the community to set up its first kindergarten class. Enrolment has now grown to 88 students from an initial 33 in the first semester.
"The parents are seeing the value of sending their kids early because they're speaking the best English," said faculty advisor Carly VandenEnde.
Schaefer has been busy sharing with peers the statistics in an educational video created for the fundraising drive.
"When you tell them the statistics about (the lack of a high school), they are shocked by it, but it's also kind of expected, so we're trying to change that," the Grade 12 Northern student said.
Ten out of 13 Lambton Kent high schools have committed to fundraising for the project. Each of the schools have come up with their own fundraisers, like a bake sale, a TV raffle and a student-versus-teacher volleyball game.
"We're not expecting each school to raise the same amount of money because each school is a different size," Schaefer said, noting the goal is for each student to donate $2.
Enactus Lambton faculty advisor Jon Milos said he has been impressed by the maturity and commitment from these high school students towards the cause.
"These young adults realize there's more that is happening outside of our community," he said. "It's a global village, and if we can do something to help, then we should."
Enactus Lambton has committed to raising the additional $10,000 needed to build the high school with the help of the community. In total, the project is expected to cost $20,000.
Villagers are anticipated to raise additional funds for desks and other supplies for the high school.
The success of the new no-till farming program will help them afford it, Milos noted.
If the fundraising is complete, construction is anticipated to begin around Christmas.
E-mail [email protected] to make donations and[email protected].com for information on the students' initiative.