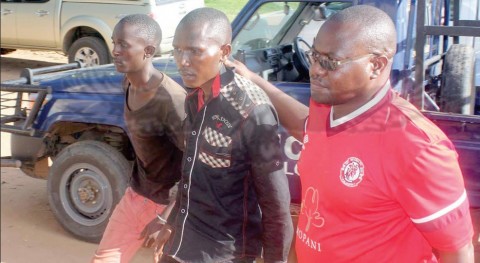 Emmanuel Katongo Junior and his younger brother Ongani, who last weekend allegedly brutally murdered their biological mother and stabbed their father have been officially charged with murder.
Police have also charged Emmanuel and Ongani who are aged 21 and 18 respectively with attempted murder.
Police spokesperson Charity Chanda confirmed that the two assailants were charged with murder because they readily admitted killing their mother and led police officers to the place where they dumped the body.
"The two admitted on their own that they murdered their mother," Ms Chanda said.
And police sources in Kitwe said the two would appear in court as soon as their wounded father recovered enough from the wounds sustained from the attack by his children.
The late Ms Ethel Gondwe Katongo was buried after a postmortem.
Ms Katongo, a deputy headteacher at Kitwe's Ishuko Primary School in Chimwemwe Township was hit with the iron bar by her children and died on the spot.
The two later bundled their mother's body in a car and dumped it in a forest plantation along the Kitwe-Ndola dual carriageway. – TIMES OF ZAMBIA.