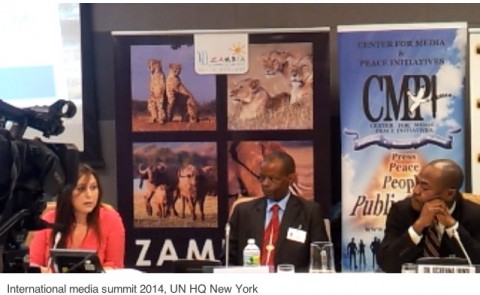 Information and Broadcasting Minister Joseph Katema has cautioned online media against propagating hatred and tribal conflict.
Dr Katema who is also Chief Government spokesperson said that even though internet has improved delivery of information, the media should not be used to disseminate hate messages and stir tribal conflict.
He said this in a press statement issued to ZANIS by First Secretary for press and Public Relations at the permanent mission of the republic of Zambia to the UN Chibaula Silwamba.
Dr Katema observed that some online publishers hide behind anonymity, and remain a secret society without a thread of journalism principles.
He charged that online media is promoting citizen journalism where untrained people engage in reporting information of community interest using internet and other modern technology.
The Minister said government is concerned with the mudslinging and defamation on the online media and will endeavour to protect the rights of its citizens.
The Minister appreciated the media's noble responsibilities and said journalists have an impeccable duty to seek the truth and provide fair and comprehensive account of issues.
Dr Katema appealed to media stakeholders to support training of journalists in media ethics and law.
The Minister was speaking at a panel discussion organised by the Zambian Mission to UN and the Centre for Media and Peace Initiatives (CMPI) under the theme reconstruction of Journalism; Credibility and Identity Crises in the Fourth Estate.
And speaking at the same function, former UN Information Officer Carole Marchal and CMPI president Uchenna Ekwo reiterated Dr Katema's sentiments that journalists must adhere to laws and ethics to reconstruct the image of the media industry.