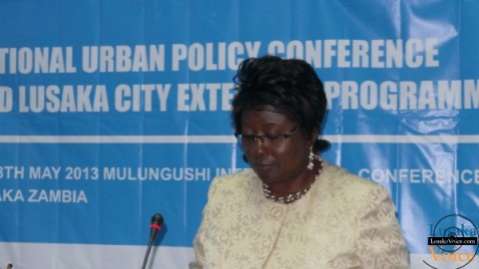 Government says the Social Cash Transfer Scheme will be scaled up to all the 105 districts in the country by the year 2016.
Community Development, Mother and Child Health Minister Emerine Kabanshi disclosed that the move is among other incentives aimed at reaching the targeted three million vulnerable people.
Ms. Kabanshi explained the programme which is currently being scaled up in 50 districts across the country has greatly benefited widows, orphans and the disabled.
The Minister said government is committed to ensure that widows, orphans and vulnerable children in society have access to social basic needs.
ZANIS reports that Ms. Kabanshi said this today when she officiated at the handover of assorted food items to 50 widows and widowers at the Inter Denomination Church Ministries in Chipata compound in Lusaka.
Ms. Kabanshi said helping the vulnerable people in society is everyone's responsibility and praised the Inter Denomination Church for supplementing government's efforts in reaching out to the needy in society.
And Inter Denomination Church Ministries Prophet, John Simfukwe said his church stands ready to support the vision of government by uplifting the living standards of the poor in society.
Prophet Simfukwe further said his church will remain non partisan adding that it will not entertain selfish people who want to use it as a platform to fight the government of the day.