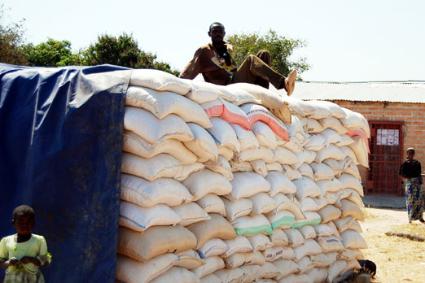 Government has allocated 30 metric tonnes of maize which is equivalent to 600 by 50 kg bags to disaster victims affected by the floods in Kaputa district.
Deputy Minister in the Office of the Vice President, Davis Mwango said the maize will be distributed to Mukupa Kantandula and other areas within the district.
Mr. Mwango who was recently in Kaputa to assess the effects of floods has since assured the traditional leadership and affected families that the food distribution exercise will begin by next week.
The Deputy Minister has meanwhile warned the district administration against misapplying relief food stating that it should only be given to intended beneficiaries.
Mr. Mwango made the disclosure when he addressed government heads of
department and the traditional leaders in the district.
Meanwhile, the District Disaster Management Committee has identified over 120 families as beneficiaries of the relief food.
The committee which met in the District Commissioner's office last Friday resolved to give two bags per family in the initial phase while the remaining bags will be given to other victims who will be identified or the same families.
And the Red Cross an organisation that has been assigned to distribute the relief food to the victims said it will begin the distribution exercise on Tuesday.
Red Cross Chairperson, Fenston Katai said the organization is more than ready to start the distribution and is only waiting for the list of beneficiaries from the district disaster committee.
Government last month allocated 12.5 metric tonnes of maize which is equivalent to 250 by 50 kg bags of maize to victims of floods in Chilubi area
of Kaputa.