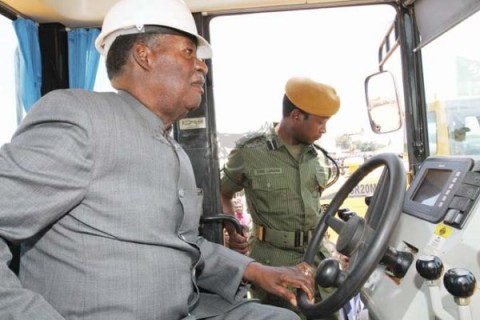 Government has released K569.7 million to fund development programmes and operations of government ministries and departments.
Secretary to the Treasury Fredson Yamba said the Ministry of Agriculture and Cooperatives has been allocated K122.3 million out of which K102.3 million will fund various facets of the Farmer Input Support Programme(FISP).
In a statement made available to ZANIS in Lusaka today by Ministry of Finance Public Relations Officer Chileshe Kandeta, the balance of K20 million will be used to purchase crops.
The Treasury has further released K61.3 million to the Ministry of Local Government and Housing for Constituency Development Funds (CDF).
The Ministry of Community Development, Mother and Child Health, which is scaling up social cash transfer across the country has received K15 million for the programme.
Mr Yamba noted that social cash transfer and CDF are key accelerators of development and poverty reduction at grass root level and called for timely implementation of development programmes.
The Auditor General's office has received K4 m to enhance operations and K9 m has been released for restructuring of the Zambia Public Procurement Authority (ZPPA).
The Treasury has also released K84.3 m fuel levy revenues to the National Road Fund Agency for road maintenance, rehabilitation and construction programmes and a further K1.8 m for rural roads in western province.
The Ministry of Lands and Natural Resources has been given K15 m to undertake a national land audit and titling exercise to give a complete picture of Zambia's land ownership and usage situation.
The Treasury has further released operational funds to Ministries of Health, Finance, Home Affairs, Mines and the Judiciary.
In addition K12 m has been released for rural electrification programme, K2.5 m for Copperbelt Environmental Programme, K13 m for payment of outstanding bills and K34 m for external debt service
Government says the funds are intended to stir the country's robust development drive and crystallize the positive strides made in job and wealth creation and poverty reduction.
"The Treasury wishes to see that the funds given to the Ministries, Provinces and other government spending agencies to produce results beneficial to the people of Zambia," said Yamba.