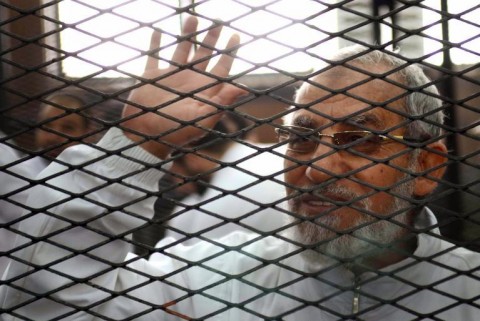 An Egyptian court sentenced 682 alleged Islamists and Muslim Brotherhood leader Mohamed Badie to death on Monday, a lawyer and prosecutor said, after two brief sessions the defence partly boycotted.
The same court in the southern province of Minya also reversed 492 of 529 death sentences it passed in March, commuting most of those to life in prison.
The court, presided over by judge Said Youssef Sabry, had sparked an international outcry with its initial sentencing last month amid an extensive crackdown on supporters of ousted Islamist president Mohamed Morsi.
The crackdown has extended to secular-leaning dissidents who supported Morsi's overthrow but have since turned on the army-installed regime.
In Cairo, a court banned the April 6 youth movement that spearheaded the 2011 revolt which toppled strongman Hosni Mubarak, following a complaint accusing it of defaming Egypt and colluding with foreign parties.
In Minya, judge Sabry is set to confirm the death sentences on June 21.
Under Egyptian law, death sentences are referred to the country's top Islamic scholar for an advisory opinion before being ratified. A court may choose to commute the sentences, which can later be challenged at an appeals court.
Of the 683 sentenced on Monday, only 73 are in custody, prosecutor Abdel Rahim Abdel Malek said. The others have a right to a retrial if they turn themselves in.
Monday's hearing lasted just 10 minutes, said Khaled Elkomy, a defence lawyer who was in court.
The verdict was the first against Badie, spiritual head of Morsi's Muslim Brotherhood, in the several trials he faces on various charges along with Morsi and other Brotherhood leaders.
 "Where is the justice?" others chanted.
A fugitive from the trial who only identified himself as Gamal and a member of the Brotherhood lashed out at the court.
"This is a political trial against those who oppose the military," said the 25-year-old who was among the 683 sentenced Monday but who is in hiding.
"My cousin has also been condemned, but we will continue our lives and this process will not stop the youths" from demonstrating, he said.
The Brotherhood urged the world to act against "gross human rights violations and injustice committed by the military junta in Egypt against its own people".
A tank is positioned outside Turah prison in Cairo on December 9, 2013, during the trial of Muslim B …
It said in a statement it would "continue to …