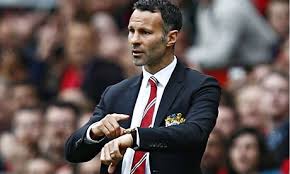 The banner draped over one of the imposing Old Trafford stands proclaims 'Giggs – Tearing You Apart Since '91'.
Yesterday, as he stepped into his Manchester United managerial shoes, it was all about ripping up David Moyes' side.
The Welshman made six changes which including dispensing of £27.5million Marouane Fellaini's services, the former Everton man not even among the substitutes.
Juan Mata, the club's record £37.1m buy, was dumped onto the bench, until summoned with an hour to go, while Rio Ferdinand – an arch critic of the Moyes era – was reunited at the back with Nemanja Vidic.
'Retro Ryan' might not have presided over a scintillating performance which had the United fans on the edge of their seats but, thanks to two goals from Wayne Rooney and a swift double from Mata, at least it made comfortable viewing.
As a rebellious young player Giggs loved to party.
Let's be fair he's enjoyed better ones than this even though Norwich crumbled under a second-half goal-rush.
But the United fans lapped it up – they now had one of their own in charge.
And if it was going to be an all-too-brief reign with Louis van Gaal hovering, then Giggs was determined to make an impact.
Rooney certainly helped with another forceful display which propelled Norwich closer to the Championship.
The Canaries had been spared the ignominy of starting the game in the bottom three thanks to a late goal burst from Hull at struggling Fulham.
Despite the backing of the Stretford End for Moyes in times of stress, the tension which has preceded many kick-offs here seemed to have dispersed.
Also gone was the banner saying Moyes was 'The Chosen One'.
The mood of strife was replaced by a rousing welcome for a suited-and-booted Giggs who made his way to the dugout, clearly having to keep his emotions in check.
Here was a local lad, hewn from Manchester granite, someone who had been doing thebusiness on the pitch since 1991 when he announced himself as a scrawny winger with all the tricks of a young George Best.
We even had a rendition of 'Georgie Boy' before the game to help evoke memories of the slick attacking play that thrilled Old Trafford crowds in a bygone era – one that set the standards of entertainment for Giggs.
Alongside him, in tracksuits, were his assistants from the 'Class of '92', Nicky Butt, Paul Scholes and Phil Neville. But this was never going to be a tribute game.
There was pride at stake for the hosts while Norwich were engulfed in a desperate scrap for survival.
It was a slow burner from United's point of view, no instant surges of attacking on a heavily-watered pitch designed to make the ball zip around.
John Ruddy palmed a fierce Danny Welbeck attempt around the post but, mostly, it was a nervy, ponderous start which had Giggs out in the technical area on a number of occasions.
Maybe he would have to borrow the watching Sir Alex Ferguson's hairdryer during the half-time break.
A few weeks ago a plane buzzed the ground with a 'Moyes Out' banner.
This time supporters from Malta clubbed together to sponsor another, this time with 'Thank-you Moyes' trailing in its wake.
Shinji Kagawa went close, hooking a Phil Jones cross past the post while Ruddy had to be alert to block an effort from Antonio Valencia.
Finally the breakthrough Giggs, and most of Old Trafford, were craving arrived in the 40th minute – a soft, low cross from Jones bamboozling a static Canaries defence, Steven Whittaker then pulling down Welbeck by his shirt close to the six-yard line.
Referee Lee Probert pointed to the spot but didn't take any other action, leaving Rooney to stroke the penalty past Ruddy.
Cue Giggs ignoring any celebrations to concentrate on delivering instructions to his new charges.
The boyo hasn't taken long to master those managerial mannerisms.
There was more fluidity from United in the second half, Rooney advancing before smashing a 20-yarder past Ruddy, despite slipping as he executed his shot.
For a side dicing with relegation danger there was little response from Norwich, whose gamble to sack Chris Hughton could come back to haunt them.
Within three minutes of coming on, Mata cashed in on a Jones pass to finish crisply from close range.
He repeated the trick from Valencia, who had been afforded too much room inside the penalty area, the Spaniard diverting the ball over the line with a headed touch.
The only problem Giggs could be left with is defending Vidic who seemed to duck his head into Robert Snodgrass's – an incident not spotted by Probert.
Snodgrass complained bitterly.
He would have been better off reserving his chagrin for his under-performing team-mates.
For Giggs, where's that five-year contract he promised himself?
Photograph: Jason Cairnduff/Action Images