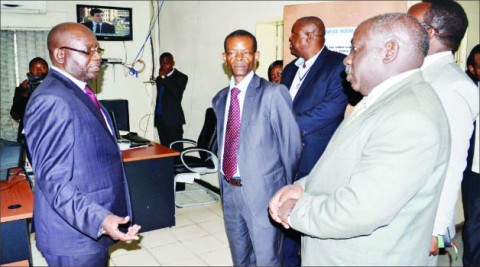 GOVERNMENT and the Church share a common platform of service to the people and remain inseparable partners in development, Information and Broadcasting Services Minister Joseph Katema has said.
Dr Katema said at a fundraising braai for Lusaka's Saint Charles Lwanga Catholic Parish yesterday, it is important that the Government and Church continue on the common path of service to achieve development for the people.
Dr Katema said as the Church celebrates Easter, it was important to lead the way in ensuring the work of the Church, which was to propagate the word of God and to help the needy in the communities, was supported financially, spiritually and morally.
Dr Katema, who is the Chief Government spokesperson, said Easter was a time to be a time for joy, reconciliation, peace and love and a time to reach out to one another.
"This is highly commendable as it is in line with the objective of the PF Government to improve the living standards of the people. The Church and Government are inseparable partners in development. The two share a common goal and common destiny of service the people," he said.
He said there was no other better way to show appreciation for what God had done in people's lives as individuals, families and in communities, than supporting his work.
"Let us give generously and cheerfully to this cause. We are reminded in the Word of God that blessed is the hand that gives than the one that receives," he said.
He said the Easter celebration was special as it came at a time Zambia was celebrating 50 years of Independence.
He said the fundraising function aimed to raise K1.7 million for the reconstruction of an office block which was gutted by fire in August last year.
The planned office block would include among other facilities, four classrooms for catechetical programmes for the Parish, eight offices and a recording studio.
He commended Saint Charles Lwanga Parish for its continued efforts to serve God through its support for the vulnerable and disabled members of the community.
He said the Parish was currently supporting vulnerable women and men through various skills training programmes at the Mulelemwana Centre and other institutions of learning.
He said ahead of Zambia's Independence celebrations, it was important that Zambians came together to commemorate the Golden Jubilee.
"I therefore call upon the Church in the country to rally all Zambians to celebrate this auspicious and remarkable achievement. This is important because the Church is at the center of actions of peace, justice and equality for all people which is essentially the heart of the Christian faith," he said.
He called on motorists to adhere to traffic regulations and avoid drinking and driving.
Saint Charles Lwanga Parish priest Timothy Lubunda said the parish was engaged in assisting various vulnerable groups and had to engage in the fundraising venture to ensure that such efforts were not halted.